Bryan Waldman Adds Fifth "Lawyer of the Year" Recognition By Best Lawyers 2024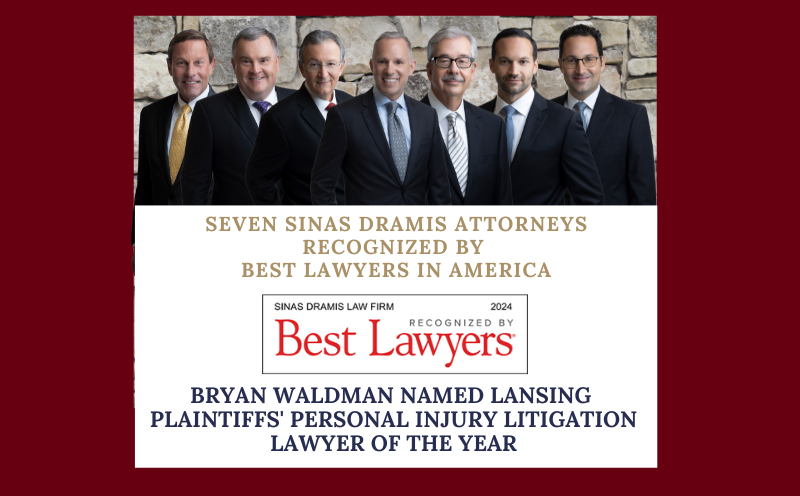 We are thrilled to announce that firm partner and President Bryan Waldman has been designated by the publication Best Lawyers as the 2024 "Lawyer of the Year" in the specialty area of Personal Injury Litigation – Plaintiffs, in the Lansing, Michigan region. This is the fifth time Bryan has obtained this recognition.
A total of seven Sinas Dramis Law Firm attorneys have been recognized as "Best Lawyers" with the specialty of representing plaintiffs in personal injury cases, in the 2024 edition of publication which is widely recognized as the oldest and most respected peer-review company in the legal profession. Best Lawyers compile their roster of exceptional legal practitioners through a meticulous survey process conducted among peers annually, which aims to identify the top 5% of lawyers in each specialty and geographic area. Furthermore, the attorney who receives the highest aggregate peer feedback within each specialized field and geographic zone is bestowed the additional title of "Lawyer of the Year."
The Sinas Dramis attorneys who have been named by Best Lawyers for the year 2024 are: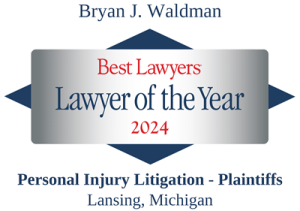 George Sinas (Lansing)
Jim Graves (Lansing)
Bryan Waldman (Lansing)
Stephen Sinas (Lansing)
Tom Sinas (Grand Rapids)
Brian McKenna (Saint Clair Shores)
Steve Weston (Kalamazoo)
The Sinas Dramis Law Firm's History as Lansing's Personal Injury "Lawyer of the Year"
Best Lawyers was first published in 1983 but didn't start designating the lawyer with the highest feedback from their peers as a "Lawyer of the Year" until 2009. That inaugural year, Sinas Dramis Managing Partner, George Sinas, was selected as the Lawyer of the Year in the area of plaintiffs' personal injury law for the Lansing Michigan region. George also won this designation in 2014. Jim Graves went on to earn this prestigious designation in 2011, 2012, and 2021. In addition to winning the Lansing plaintiffs personal injury title of Lawyer of the Year for 2024, Bryan Waldman won the award in 2015, 2017, 2020, and 2022. In other words, a Sinas Dramis lawyer has received the highest recognition from their peers and Best Lawyers as the top plaintiffs' personal injury lawyer in Lansing for 10 of the 16 years that a Lawyer of the Year has been recognized. This continued recognition is evidence of the law firm's dedication to civil justice and serving Michigan residents in need of representation.
Bryan's commitment to providing the best representation for his clients is evident in his approach to each case. He believes that understanding the unique experiences and stories of his clients is crucial for effective legal representation. Bryan's career has been marked by notable results, including substantial
verdicts and settlements in complex cases involving motor vehicle crashes, wrongful deaths, catastrophic injuries, and more. These accomplishments underscore his tenacity and skill in pursuing justice on behalf of his clients. Both they and his peers continually praise his compassion, dedication, and willingness to go the extra mile.
"Bryan is humble, thoughtful, and an extremely passionate person about right and wrong. These qualities, amongst others, are what make him the great human being he is… against all odds, we ended up with a more than fair outcome. I can say without a doubt that the only reason things ended in a favorable manner was due to the work Bryan and his team did." – Bryan's Former Client
Bryan's multifaceted accomplishments reflect his unwavering commitment to civil justice, his client's well-being, and his contributions to legal education and advocacy. In addition to this recognition, he is also repeatedly recognized by Michigan Super Lawyers, Leading Lawyers, and various bicycle advocacy groups, for his work defending the rights of bicyclists across the state.
Personal Injury Excellence Across Michigan
Sinas Dramis Law Firm is committed to serving those wrongfully injured across Michigan, regardless of location. With an unwavering focus on justice and advocacy, the firm has consistently demonstrated its commitment to providing top-tier legal representation to individuals who have suffered injuries due to accidents, negligence, or wrongdoing. With a reputation for diligence, compassion, and a track record of successful outcomes, Sinas Dramis Law Firm remains a steadfast ally for those seeking rightful compensation and closure following personal injury incidents.