Sinas Dramis Ranks Among Best Personal Injury Attorneys In Michigan, 10 Named in Super Lawyers 2023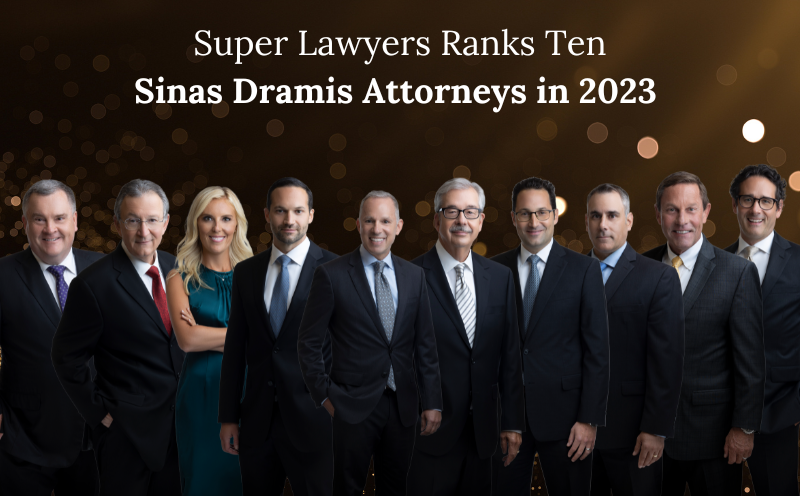 In the latest 2023 edition of Michigan Super Lawyers magazine, Sinas Dramis Law Firm has once again secured its position as a powerhouse in the legal field. A remarkable achievement, this year's listing of "Michigan Super Lawyers 2023" features 10 of our attorneys. The magazine recognizes 9 Sinas Dramis attorneys in the Plaintiffs General Personal Injury Law category, reaffirming our commitment to championing justice for those who need it most.
The attorneys who have made their mark in the category of Plaintiff General Personal Injury Law are as follows:
In a parallel realm of expertise, Sinas Dramis attorney Joel Finnell stands recognized in the field of Appellate Law.
As a premier rating service, Super Lawyers distinguishes exceptional legal practitioners across more than 70 practice areas. These professionals have not only gained substantial peer recognition but have also achieved remarkable professional feats. An exclusive accolade, the Super Lawyers roster comprises merely the top 5 percent of lawyers in Michigan. The selection protocol involves a meticulous multiphase process encompassing a comprehensive statewide lawyer survey, independent research evaluations of potential candidates, and insightful peer reviews within respective practice areas. This rigorous methodology yields a diverse and trustworthy compilation of exceptional legal minds.
At the core of this recognition lies Sinas Dramis Law Firm's unwavering dedication to personal injury excellence across the entire State of Michigan. For more than 70 years the firm has built a reputation of commitment to upholding the highest standards of legal practice. This year's Super Lawyers roster reflects our diverse and expansive reach, with attorneys hailing from all our Michigan office locations. This underscores our capability to serve and support anyone who has suffered due to injuries caused by the negligence of another, no matter what their geographic location within the state.