Bryan Waldman Sworn Into American College of Trial Lawyers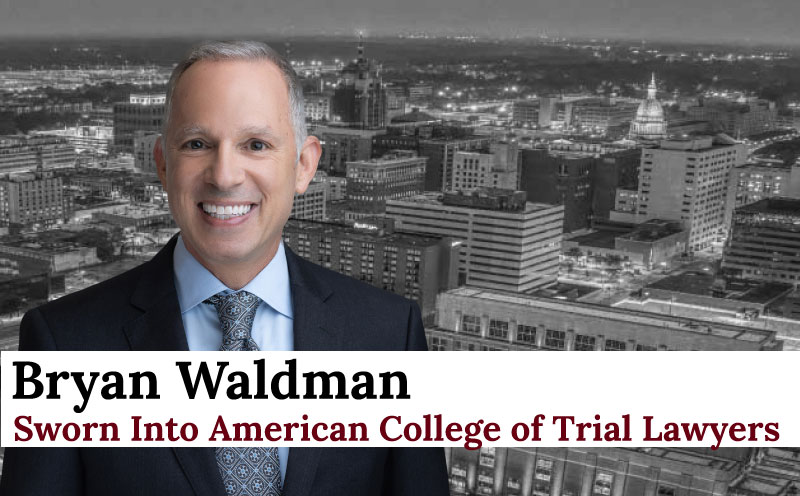 The Sinas Dramis Law Firm is proud to announce that firm president and partner Bryan Waldman has become a Fellow of the American College of Trial Lawyers.
The induction ceremony at which Bryan became a Fellow took place on September 23, 2023, in San Diego, California. Bryan is the first Lansing area plaintiff personal injury lawyer inducted into the organization.
In his 31 years of practicing law, Bryan has received numerous honors. He is a past president of the Michigan Association of Justice (formerly Michigan Trial Lawyers Association), a council member of the State Bar of Michigan Negligence Section, and a member of the American Board of Trial Advocates. He has also been recognized in numerous peer-reviewed publications including Michigan Super Lawyers, Leading Lawyers, and Best Lawyers in America, where he has been recognized five different years as the publications Lawyer of the Year for Plaintiffs' Personal Injury Litigation, for the Lansing area.
About the American College of Trial Lawyers
Founded in 1950, the College is composed of the best of the trial bar from the United States, Canada, and Puerto Rico. Fellowship in the College is extended by invitation only and only after careful investigation, to those experienced trial lawyers of diverse backgrounds, who have mastered the art of advocacy and whose professional careers have been marked by the highest standards of ethical conduct, professionalism, civility, and collegiality. Lawyers must have a minimum of fifteen years of trial experience before they can be considered for Fellowship.
"I am honored to be selected as a fellow," said Bryan Waldman "Knowing the selection process and that such an elite group of lawyers feel I have had enough success, and more importantly, done it in an ethical manner is enormously gratifying."
Membership in the College cannot exceed one percent of the total lawyer population of any state or province. The College maintains and seeks to improve the standards of trial practice, professionalism, ethics, and the administration of justice through education and public statements on the independence of the judiciary, trial by jury, respect for the rule of law, access to justice, and fair and just representation of all parties to legal proceedings.
Please join everyone at Sinas Dramis Law Firm in congratulating Bryan on this much-deserved honor.