West Michigan Drivers Lead the State in Distracted Driving Crashes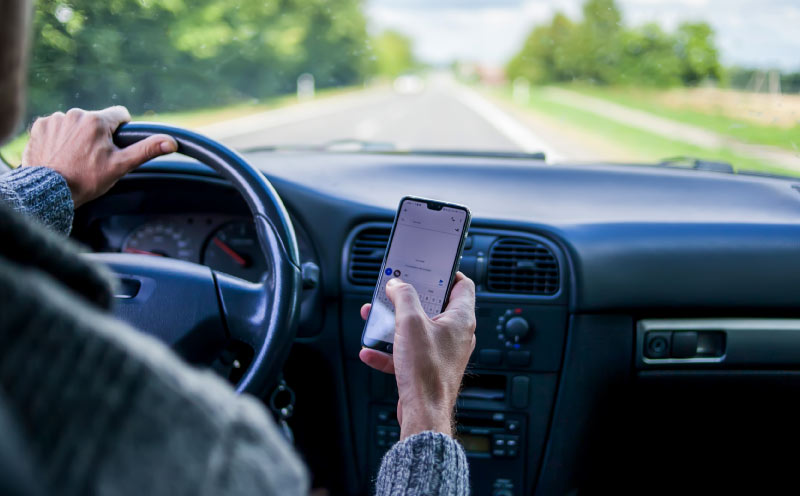 As a dedicated Grand Rapids Car Accident Law Firm, our commitment to road safety is unwavering. Distracted driving is a pressing issue that affects countless lives every year. Recent data reported from MLive.com based on statistics by Michigan State Police, sheds light on the concerning statistics surrounding distracted-driving crashes in West Michigan throughout 2022.
Distracted Driving in Michigan
In 2022, Michigan recorded a disconcerting 15,441 vehicle crashes that were attributed, at least in part, to distracted driving. While this marked a 6.7% decrease compared to the previous year, it remained a significant number. The gravity of the situation prompted the state legislature to enact a new law that prohibits holding and using any mobile electronic device while operating a vehicle. According to Michigan State Police, there are several distractions that can elevate the risk of an accident, including the use of electronic devices, interactions with passengers, and various activities both inside and outside the vehicle. According to the data distracted driving was found to be a contributing factor in 5.26% of all vehicle crashes statewide in 2022.
Grand Rapids Area Counties Lead the Way in Distracted Driving Crashes
Unsurprisingly, the counties with the largest populations also reported the highest numbers of distracted-driving crashes, as they naturally accounted for a significant portion of total crashes. Macomb and Ottawa counties led the pack, with distracted driving contributing to 7.5% of crashes. Strikingly, 14 other counties also reported rates above the state average. Some of those include:
Macomb: 1,692 Crashes – 7.5% of all Crashes in the county
Ottawa: 617 Crashes – 7.5% of all crashes in the county
Kent County: 1,353 Crashes – 6.7% of all crashes in the county
Bay County: 188 Crashes – 6.5% of all crashes in the county
Washtenaw County: 597 Crashes – 6.5% of all crashes in the county
Oakland County: 2,163 Crashes – 6.3% of all crashes in the county
Kalamazoo County: 551 Crashes – 6.3% of all crashes in the county
According to this data, three of the top seven counties with distracted driving crash rates are in West Michigan.
New Distracted Driving Laws
In an effort to make the roads safer, new laws went into effect in Michigan on June 30th, 2023 aimed at cracking down on distracted driving. The bill nicknamed "Hands-Free" limit the complete use of a phone behind the wheel, unless it's being used to call emergency services. This includes:
Send or receive a telephone call.
Send, receive, or read a text message.
View, record, or transmit a video.
Access, read, or post to a social networking site.
Reaching for a mobile electronic device in a manner that requires a driver to maneuver so that the driver is no longer in a seated driving position, restrained by a seat belt that is installed as required.
Learn more about Hands-Free Distracted Driving Laws here →
What to do if you're injured in a crash by a distracted driver?
Distracted driving continues to pose a significant threat to road safety in Michigan, resulting in thousands of accidents and fatalities each year. Although some progress has been made in reducing distracted driving crashes, this issue persists. As a Grand Rapids car accident law firm with more than 70 years of experience, we've handled cases where someone is injured by a distracted driver and recognize how complicated these situations can be for those involved. Our firm is committed to making the legal process as smooth and transparent as possible for our clients. We always suggest that if you've been injured in a motor vehicle crash, you contact an experienced attorney for a free consultation. It's incredibly important to protect your rights and understand your legal options in the wake of a crash.
Contact Sinas Dramis Law Firm for a Free Motor Vehicle Crash Consultation →
Preventing Distracted Driving Crashes in West Michigan
At Sinas Dramis Law Firm we urge all individuals to prioritize safety while on the road. Stow away your electronic devices, concentrate on the task of driving, and contribute to the collective effort to reduce accidents caused by distracted driving. Together, we can save lives and prevent unnecessary legal disputes. It is crucial for individuals, communities, and authorities to remain vigilant and proactive in their efforts to combat distracted driving and to support measures that promote safer roads for all. The statistics may be alarming, but with awareness, education, and enforcement, we can hope to see a significant reduction in distracted driving incidents in the years to come.
Source: MLive.com – Which Michigan counties had the most distracted-driving crashes in 2022?