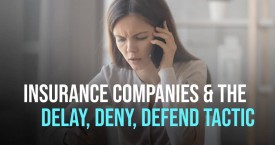 You paid your car insurance premiums faithfully. You chose an insurance company you thought would have your best interests in mind. But now, you've found yourself in a complicated situation. You've been in a car accident and your auto insurance company – and the security it was supposed to provide – is suddenly nowhere to be found.
Although auto insurance companies lure customers in through supportive slogans promising a neighbor-like reputation, their actions following an accident can seem anything but. This is because, while auto insurance companies portray themselves as a friend to turn to after an accident, at the end of the day, they are still a business. Their bottom line is above all and is often why insurance companies don't pay claims. And, unfortunately, turning a profit for them can mean huge consequences for you.
Insurance companies are recording astronomically high profits, in part, due to a common tactic known as delay, deny, defend. This is one of many tactics insurance companies use to avoid
paying claims.
What is the Delay, Deny, Defend Tactic?
The delay, deny, defend tactic is a series of measures your auto insurance company may take to ensure your claim is either never paid or paid at a rate far below what you deserve. This tactic is comprised of three parts:
Delay: During the initial phase of the delay, deny, defend tactic, your insurance company may seem as though they are going to help you through your auto no-fault claim, even if they have no intention of doing so. Your insurance company may be unreasonably long determining whether you had coverage at the time of your injury. Or your agent might change at the last second – forcing you to essentially start the process all over again. It's also likely your agent may be impossible to reach. This causes you to play an endless and unfruitful game of phone tag.
Deny: Another method your auto insurance company may employ is to deny your claim. Your auto insurance company knows the complexities of insurance coverage and may try to bury you in confusing technicalities and details as a result. For example, they may deny your claim because they "never received your paperwork." Or because you "filled out the wrong paperwork," even if this is not the case. They may cite a nonexistent technicality, such as a law that doesn't comply with your claim, or an exclusion on your auto insurance agreement that wasn't there when you signed it.
Defend: In arguably the most frustrating portion of the delay, deny, defend tactic, your insurance company may issue a settlement for far less than you were entitled to. This forces you to pay out-of-pocket for your bills and injuries or seek legal remedies to defend your claims in a court of law. Because litigating your claim can be expensive and there is no guarantee that you will win your case, your auto insurance company may hold out hope that you will settle for less than you deserve. In these cases, even insurance companies with clear liability will refuse to negotiate a fair settlement with you in the hopes that the daunting task of hiring an auto accident attorney and pursuing a trial will force you to accept their low-ball settlement offer.
Tactics Insurance Companies Use to Avoid Paying Claims and What You Can Do
It's important to understand the delay, deny, defend tactic in the context of auto no-fault claims because all claims involve some sort of statute of limitations – the amount of time you can bring a certain kind of legal action. The statute of limitations on an auto no-fault claim is incredibly important because if you exceed it you could lose the ability to bring your claim entirely. Your auto insurance company is highly aware of these deadlines and may employ these delay, deny, defend tactics to ensure you lose out on your ability to bring an auto no-fault claim at all.
The harsh reality is that while making an auto no-fault claim often involves a period of vulnerability for you – such as a serious auto accident and resulting injuries – it is simply business as usual for your insurance company. However, this does not mean you have to accept the aggressive delay, deny, defend tactics used by your auto insurance company. While auto no-fault claims can be tricky to navigate, an experienced Michigan auto accident attorney can help send your insurance company a message: you are not going to give up and walk away from the compensation you truly deserve.
If you're experiencing the delay, deny, defend tactic with your insurance agent, it might be time to seek legal assistance with your claims. Call us today at 866.758.0031 for a free initial case evaluation.