Michigan Auto Accident Attorneys with Over 60 Years of Experience Serving all of Michigan
Everyone knows driving or riding in an automobile is the most dangerous activity most of us partake in. But cars are an essential component of everyday life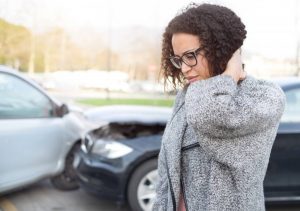 and rates of accidents only continue to rise. When you've been in a car crash, you need a skilled and experienced Michigan auto accident attorney to help guide you through the claim process and obtain the compensation you deserve.
For more than 60 years, thousands of Michigan families have trusted the attorneys at Sinas Dramis Law Firm their auto accident cases. Our attorneys are not only well-regarded in personal injury law with expertise in car accident cases, but have also earned the title of thought-leaders in Michigan's complex no-fault auto insurance. We understand the many ins and outs of Michigan's specific auto insurance system. We'll help navigate your claim so you can focus on what's really important — your recovery, healing, and life outside your case.
Contact us for a free initial case evaluation and to see how we can help you.
Headquartered in Lansing, Michigan, Sinas Dramis Law Firm opened its doors in 1951. Since then, we've become the leading authority in the area with regard to Michigan's auto no-fault system, and have earned the trust and respect of our community members, peers, and clients. We love serving Lansing and are dedicated to protecting the rights of individuals and families injured in car accidents on Lansing roadways.
Our office is conveniently located near the I-496/US-127 interchange at 3380 Pine Tree Rd, Lansing, MI 48911. Get ahold of a Lansing attorney at (517) 394-7500.
Learn more about our attorneys and Lansing office here.
Sinas Dramis Law Firm opened a second office, located in Grand Rapids in 2013, to better serve Michigan residents involved in car accidents in West Michigan. Led by auto accident attorney, Tom Sinas, Sinas Dramis is now proudly an influential auto accident authority in West Michigan.
Tom regularly presents a weekly television segment on Fox 17 called "Know the Law," which helps educate everyday citizens about their rights, the laws that are designed to protect them, and offers insight if something should go wrong.
You can find us at 312 Fulton Street East, Grand Rapids, MI 49503. Get ahold of a Grand Rapids attorney at (616) 301-3333.
What to Do After a Michigan Car Accident
You've been in a car crash. Chances are, you're pretty shaken up. It's hard to know what to do first, what your responsibilities are, or what rights you're entitled to. Below, our award-winning lawyers offer recommendations to help navigate this next phase successfully and ensure you are protected and taken care of.
1. Your first priority is your health and wellbeing. If anyone in your vehicle needs medical attention, a police officer can assist with getting an ambulance. Oftentimes, injuries from an automobile accident may not present symptoms immediately. These types of injuries include traumatic brain injury (TBI) and neck and spine injuries. If in doubt, seek medical attention right away.
2. Move over to safety. If your car is still operational and you can do so, navigate to a safe place off the shoulder of the road. Do not leave the scene of the accident.
3. Document and photograph the site. If you're physically able to, collect as much information as possible. This may include photographs of the vehicles involved, your injuries, or videos of the scene. Furthermore, be sure to obtain insurance and personal information of the other driver.
4. Order your police report. At the time of the accident, you should have received information regarding which police department responded to your accident. Afterward, you will then contact that department for the official police report.
5. Contact a skilled auto accident attorney to begin a thorough investigation of the incident.
7. Do not speak with investigators or adjusters representing others involved in the accident or discuss the potential of settling or specifics about your accident. Also, do not sign any medical authorizations from the opposing party. Consult with your attorney first.
Importance of Hiring an Auto Accident Attorney Who Understands No-Fault Insurance
Michigan is unique with respect to our auto insurance system. When you're in an accident in Michigan, you're potentially entitled to two types of claims: 1. no-fault insurance benefits and 2) a liability claim against the at-fault driver. But not every attorney understands the complexities of no-fault insurance. The Sinas Dramis attorneys have dedicated their careers to understanding the complexities of the state's no-fault system and are known as thought leaders in this area of law. As such, we dedicate an entire website to educating the public, fellow attorneys, and medical and insurance providers about this unique insurance system.
If you or a loved one have been injured in an auto accident in Michigan, call us for a free initial case review at (517) 394-7500 or fill out a contact form here.