Justice for All – Initiative to Help Those Representing Themselves in Civil Cases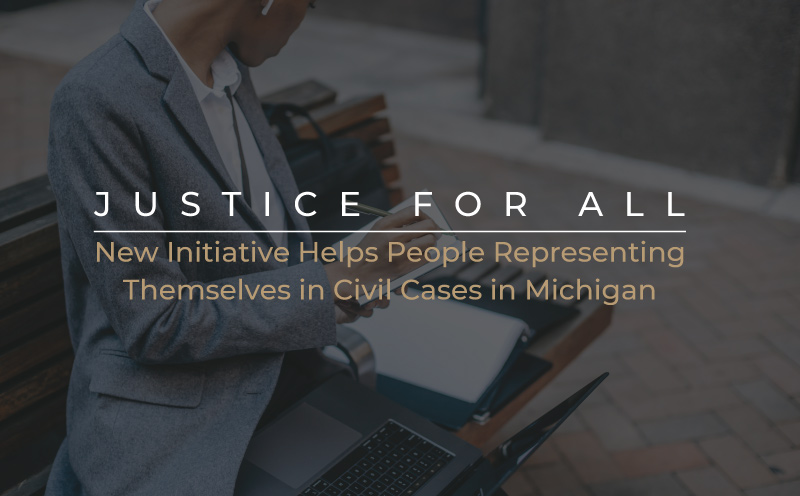 The Michigan Supreme Court recently announced "Justice for All" – a new initiative that hopes to help people handle their own civil claims. Grand Rapids personal injury lawyer, Tom Sinas, discussed the new program recently on Fox 17 "Know the Law."
Civil Cases v. Criminal Cases
Everyone has heard the phrase "you have the right to a lawyer, if you cannot afford a lawyer, one will be provided to you." The right to a lawyer is a constitutional right, however, it applies only to criminal cases. The United States Constitution or the state's Constitution does not provide people with the right to a lawyer in a civil case. However, people can potentially find themselves in the midst of a civil lawsuit in a variety of different aspects of life, including car accident lawsuits, housing issues, bill disputes, and other examples of claims that fall under the civil justice system.
Self-Representation in Civil Lawsuits
The unfortunate reality is many people cannot afford attorney fees in civil cases where access to a lawyer is not a constitutional right. In these instances, many people must represent themselves and forego an attorney altogether. As a result, the Michigan Supreme Court recognizes that civil law can be a very difficult system to navigate on one's own. The "Justice for All" program would help those representing themselves in civil suits to navigate the complexity of the court system.
In order to help people navigate the civil justice system more effectively, the Michigan Supreme Court proposes to make court forms simpler, the general culture of the court system more accessible, and to create an atmosphere in which everyday people feel comfortable interacting.
Resources for Those Representing Themselves in Civil Cases
A number of resources are available to those representing themselves in civil cases.
Limited scope representation: First, court rules recently changed. These changes allow lawyers to conduct "limited scope representation," which means lawyers can decline to take a person's case in its entirety but takes on one specific part or project within that case. The person self-representing would then pay the attorney for the small part the lawyer helped with, and then would be responsible for handling the rest of their case. In the past, lawyers taking on a new client had to take on their entire case.
Legal Assistance Center of Kent County: Housed in the courthouse in downtown Grand Rapids, the Legal Assistance Center is devoted to helping people navigate the system of representing themselves. A number of dedicated volunteers help people with civil claims in the absence of attorney representation. Be sure to look for similar institutions and services locally to you.
We look forward to seeing the outcome of the new "Justice for All" initiative in hopes that it helps people navigate an oftentimes complex and confusing system of self-representation.