Struggle for Accountability in Cases of Sexual Assault – Michigan AG Closes Nassar/MSU Investigation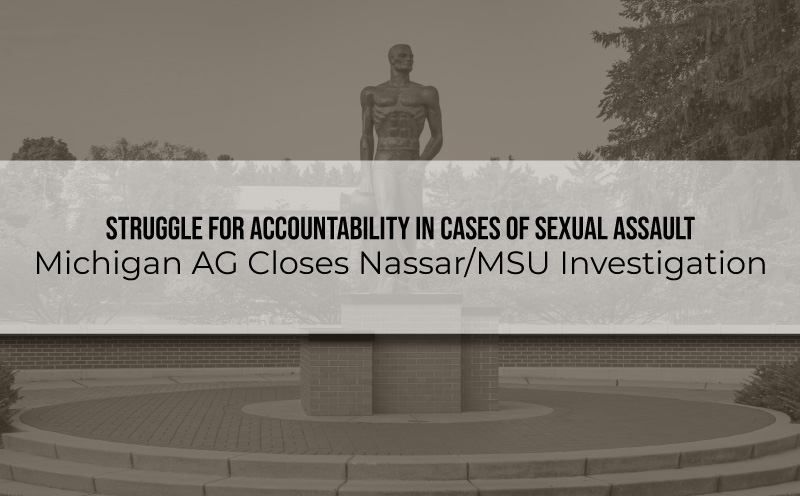 While the discussion surrounding sexual assault first came into the public arena sometime in the 1940s, President Barack Obama officially proclaimed April as Sexual Assault Awareness Month for the first time in 2009. Since then, Sexual Assault Awareness Month (SAAM) has evolved and grown over time into its current observance: a month-long campaign geared to heighten awareness of the tremendous physical and psychological toll of sexual assault on survivors with the goal of reducing the scourge of sexual violence. On the eve of the 2021 Sexual Assault Awareness Month, Michigan Attorney General, Dana Nessel, announced her office was forced to close its investigation into the MSU and Larry Nassar scandal that rocked the Michigan State University campus and nation. Accountability in cases of sexual assault is crucial to survivors, and this development further highlights the need for real institutional change in instances of organizations failing to protect their patrons, students, and patients.
Accountability in Cases of Sexual Assault – Vital to Survivor Healing
A critically important component of the healing process for survivors is accountability. In fact, the federal government acknowledged how critically important accountability is for survivor healing, it enacted Title IX in 1972. Title IX is designed to protect people from discrimination based on sex in educational programs and provides a means for holding institutions that fail to provide and adhere to these protections accountable. The U.S. Department of Education's Office for Civil Rights vigorously enforces Title IX to ensure compliance through evaluations, investigations, and complaint resolution. Institutions that fail to comply with Title IX regulations can be held accountable for injury and harm caused by their negligence or misconduct.
Our sexual assault team of lawyers is also committed to obtaining full accountability for our survivor clients harmed by institutional neglect and disregard for the physical and psychological welfare of students on college and university campuses.
Attorney General Forced to Close MSU/Nassar Investigation
In the largest college sports sexual abuse scandal in the nation's history, our team of skilled attorneys, along with courageous survivors and other committed law firms, pushed for full accountability from Michigan State University. While a record-setting settlement was eventually achieved on behalf of the many survivors, regrettably, full accountability remains unattainable at this time.
In late March, Michigan Attorney General Dana Nessel announced the early termination of the investigation into the Michigan State University and Larry Nassar scandal. The MSU Board of Trustees in fact previously requested an investigation by the Attorney General into MSU's role in the scandal. Despite its request for a full and transparent investigation, the MSU Board refused to give investigators 6,000 documents bearing on MSU's role in the scandal again in late March 2021. This refusal ultimately led to the premature termination of the AG's investigation.
A Call for Full Transparency from MSU
A group of state lawmakers also called for MSU to release the documents, stating:
"Full transparency is essential to this investigation, and an impartial investigation is essential to restoring public trust. We owe it to survivors, families, students, faculty, employees, and the entire MSU community to have a full, transparent, and impartial investigation complete. The MSU Board members have the opportunity to ensure this happens." 
The Sinas Dramis Sexual Assault Team agrees – a full and transparent investigation is crucial to moving forward. Without such investigations and institutional cooperation, accountability in cases of sexual assault will continue to be unachievable. We stand with the survivors of the Nassar/MSU scandal, despite the recent roadblock in their quest for accountability. There is no better time than now, during Sexual Assault Awareness Month, to support and encourage public awareness of this need for greater accountability in cases of sexual assault.