Katie Tucker Receives 2021 Women Lawyers Association of Michigan (WLAM) Award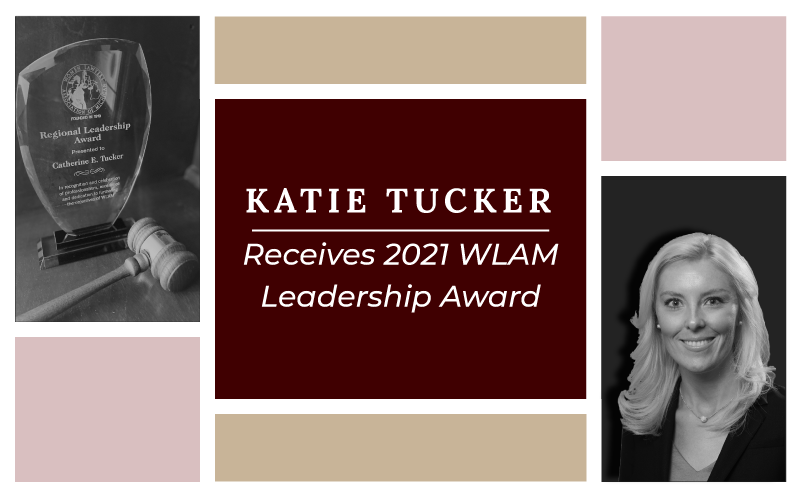 We are pleased to share that the Women Lawyers Association of Michigan (WLAM) recently awarded Partner, Katie Tucker, its 2021 Regional Leadership Award. Katie has served as President of the Women Lawyers Association of Michigan's Mid-Michigan Region for the past 5 years. In that role, she led the organization in serving the local legal and non-legal community, hosting events and raising funds for charities that primarily serve women, and awarding scholarships to female law students and graduates. She currently serves as the Region's Immediate Past President.
Katie is one of only six distinguished women attorneys in our State to receive the Regional Leadership Award. This award is presented in recognition and celebration of each attorney's professionalism, excellence, and dedication to furthering the objectives of the Association. Katie and fellow Award recipients were honored at WLAM's 103rd Annual Meeting on June 5, 2021. The theme of the 2021 Annual Meeting was GRIT – recognizing the importance of grit and a growth mindset in the success of women lawyers.  Katie embodies both characteristics.
Katie Tucker's Dedication to Personal Injury Law
Katie began her legal career in labor and employment law, advocating for the rights of employees and representing statewide labor organizations in administrative agency proceedings and in trial and appellate courts across Michigan. Her interest in ensuring access to medical benefits and healthcare for Michigan residents later drew her to the area of personal injury law.
In the field of personal injury law, Katie has thrived. She now leads Sinas Dramis' medical provider team, pursuing claims for payment from no-fault and other insurers for treatment rendered to injured patients by a vast array of Michigan medical providers. In addition, Katie represents individuals injured in Michigan motor vehicle accidents in pursuing both no-fault and tort claims. With her tenacious and detail-oriented approach, Katie has recovered hundreds of thousands of dollars for auto accident victims and their providers across our State.
In early 2021, we proudly announced Katie's new role as a Partner at the firm. Additionally, Katie is part of the Editorial Board for our sister website – AutoNoFaultLaw.com. In this role, she helps keep Michigan's interested parties up-to-date on auto no-fault-related developments, such as the new Utilization Review process required under the no-fault reforms of 2019.
Please join us in congratulating Katie on receiving the 2021 WLAM Regional Leadership Award for exceptional leadership!