A Guide to Michigan's Off-Road Vehicle (ORV) Laws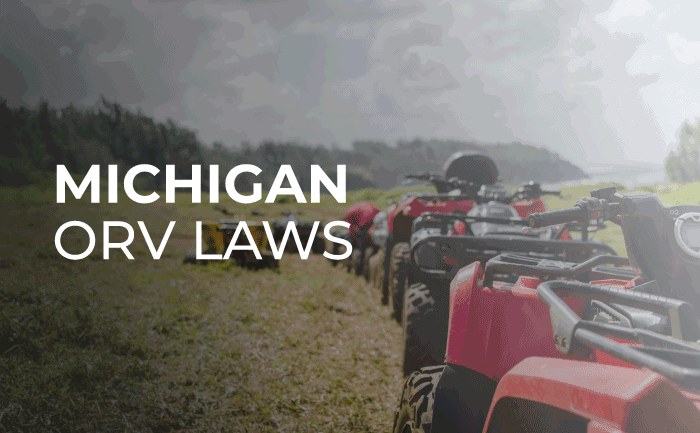 Two weekends a year, the state of Michigan hosts Free ORV Weekend – one weekend in June, one weekend in August. On Free ORV Weekend, you do not need to purchase a license for your ORV or a trail pass. Every other day in Michigan, ORV operators are normally required to license their vehicles and purchase trail passes. The June Free ORV weekend coincides with Michigan's free fishing weekend as well as the weekend the Michigan DNR waives the rec pass requirement and park entry fees. While the August weekend is more limited, both weekends (Saturday and Sunday) are free when it comes to ORV licenses and trail passes. Regardless of when you ride your ORV, basic safety and Michigan ORV laws still apply. Grand Rapids personal injury lawyer, Tom Sinas, recently provided a refresher on the topic of Michigan ORV laws and regulations on Fox 17 "Know the Law."
What is an ORV?
First, it's important to know what types of vehicles the state of Michigan considers as an ORV in order to understand the laws in Michigan that apply to them. An ORV – or off-road vehicle – is a motor-driven, recreational vehicle capable of driving on a range of terrains not limited to roadways and trails. Examples of  ORVs include but are not limited to:
All-terrain vehicles (ATVs)
Motorcycles or related 2-wheel, 3-wheel, and 4-wheel vehicles
Utility terrain vehicles (UTVs) and other 4×4 vehicles
Amphibious machines
Ground-effect, air-cushioned vehicles such as hovercrafts
Michigan ORV Laws
ORV helmet law – ORV operators and passengers must wear a USDOT-approved crash helmet. This requirement is not to be confused with Michigan's sometimes confusing motorcycle helmet law, which allows for certain motorcyclists meeting particular requirements to ride without a helmet. No matter what, people riding in an ORV must wear a helmet, on Free Weekend or not.
ORV gear requirements – ORV-required equipment includes a braking system, throttle, spark arrestor, muffler, seating for everyone on the vehicle, and functioning lights.
ORV operator requirements – Michigan ORV laws ban anyone under the age of 10-years-old from operating an ORV. Those over the age of 16-years-old can operate an ORV. Different rules for different ages between this range apply. For instance, kids aged 12-15 can drive an ORV, but they must be within the visual supervision of a parent or guardian and must also have their ORV safety certificate.
ORVs and Alcohol
Many people, especially in Michigan with our amazing access to state land and ample trails, plan entire vacations around ORVing. Relaxing vacations, for many, go hand-in-hand with alcohol consumption. We would be remiss to not mention the strict rules regarding ORVs and alcohol. You cannot have an open container of alcohol in an ORV. In addition, those caught operating an ORV under the influence of alcohol or drugs can receive six points on their license. If you are operating under the influence and cause an injury, it's a felony.
Catch Tom Sinas's "Know the Law" segment about ORVS and more information regarding this year's "Three Free Weekends" below:
Please remember these Michigan ORV laws as you hit the trails, use the best safety practices, and have fun!
RELATED READING:
---