Katie Tucker – Only Lansing Personal Injury Lawyer Recognized as a Top Woman Attorney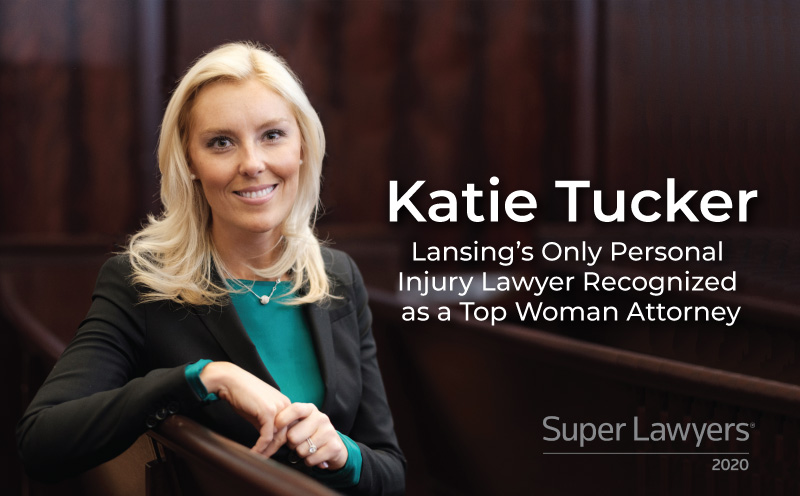 We are pleased to announce that Sinas Dramis Partner, Katie Tucker, has received the incredible distinction as the only Lansing-based personal injury attorney recognized on the Super Lawyers' Top Women Attorneys list for 2021. This recognition further signals Katie's deep commitment to both the community and her clients in Lansing and beyond, as well as her exceptional work in the area of personal injury law. Additionally, Super Lawyers has named Katie a "Rising Star" since 2018 for her dedicated representation on behalf of plaintiffs in Michigan personal injury cases and her exceptionally promising career.
More About Katie Tucker's Work in Personal Injury
Katie leads the firm's no-fault medical provider practice group, pursuing claims on behalf of medical providers for unpaid treatment rendered to injured auto accident victims in Michigan. She has successfully represented providers of physiatry, psychology, physical therapy, occupational therapy, speech therapy, recreational therapy, vocational therapy, attendant care, and comprehensive neurorehabilitation services in trial and appellate courts across the State. In addition, she represents individual plaintiffs in personal injury cases including auto accidents, wrongful death, and dog bite claims. Katie also serves on the Editorial Board of AutoNoFaultLaw.com – a Sinas Dramis effort to educate the many people in Michigan that interface with the auto no-fault system, including medical providers, insurance professionals, injured people, and other attorneys and judges. In the beginning of 2021, Katie also earned partnership status at the firm and serves in various leadership roles in that capacity.
Katie's Recognitions as a Top Woman Attorney
Katie's legal advocacy extends beyond her practice at Sinas Dramis Law Firm. Katie is a Board Member and President of the Women Lawyers Association of Michigan, Mid-Michigan Chapter (WLAM) and a Past President of the Ingham County Bar Association, Young Lawyers Section. In 2019, Michigan Lawyers Weekly named her an "Up and Coming" lawyer and she was named a "Top 40 Under 40" attorney by National Trial Lawyers.
Please join us in congratulating Katie on this momentous recognition!