MSU Center for Survivors and MSU Sexual Assault Healthcare Program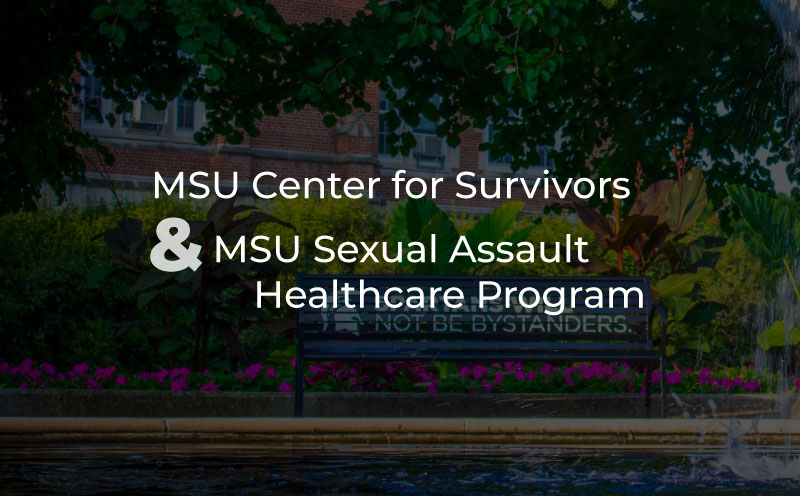 Experiencing sexual assault is one of the worst traumas you can endure. Adding further to an already traumatic experience, having to sit in a big hospital waiting room, possibly feeling judged by investigators and medical professionals, and waiting for medical assistance can make matters worse. We recently had the privilege of virtually touring a new resource available in East Lansing. The newly opened MSU Center for Survivors and MSU Sexual Assault Healthcare Program aims to ease the experiences of sexual assault survivors immediately following their traumatic event. In this tour, Jackie learned what the Program and Center have to offer, and includes that information in the article below in hopes of helping survivors in the greater Lansing communities.
MSU Center for Survivors and MSU Sexual Assault Healthcare Program
MSU Center for Survivors is a brand-new facility on Michigan State University's campus. Notably, the MSU Sexual Assault Healthcare Program is the first program of its kind in the United States. The Center provides resources, support, and referrals for survivors of sexual assault, in addition to medical care and treatment, and medical forensic exams. The MSU Sexual Assault Healthcare Program focuses on providing full access to high-quality healthcare for victims of sexual assault, as well as empowering survivors to make the best choices for themselves. This last element is one that our Michigan sexual assault attorneys note as particularly important; supporting a survivor's free will, which was recently taken away from them, is crucial in helping them obtain critical medical treatment and other services.
Access to Treatment Without Reporting to Police
Following a sexual assault, a survivor may face the choice of whether or not they should seek medical treatment and if seeking such treatment will require them to report it to the police. Fortunately, that is not the case at MSU Center for Survivors and MSU Sexual Assault Healthcare Program. Without having to make a report to the police, survivors can receive medical treatment for their injuries and trauma, including preventative treatment for STIs, HIV, or emergency contraception. Additionally, survivors can have an exam completed, which allows them to preserve evidence and allow them much-needed time to process what has occurred before deciding whether or not they want to report to law enforcement.
The Program is not a mandatory reporter, meaning it is up to the survivor to determine if police will be notified.  That said, if a survivor does have a forensic medical exam, the MSU Sexual Assault Healthcare Program will store the kit for 10 years. This gives the survivor time to process the assault and make their determination at a later date.
In addition to medical treatment and therapy, the MSU Center for Survivors also has interview rooms, which were designed with trauma-informed spaces for interviews by the police or Office of Institutional Equity should the survivor choose to report to local law enforcement. Local survivors can request to have their police interviews at MSU to use a more friendly and comfortable space than the typical police interview room.
Privacy for Survivors
When dealing with sexual assault, privacy is of the utmost importance. The Center has a designated waiting room that holds a maximum of 1 patient at a time in order to ensure your privacy. Additionally, the waiting room is decorated more like a family room, so that you can be as comfortable as possible. The exam room is attached to a full private bathroom with a shower and equipped with hygiene products, blow dryers, clothing, socks, and shoes. Following an exam, a survivor can clean themselves up before leaving. Moreover, the MSU Sexual Assault Healthcare Program medical records are private and not connected to medical records of any other office or program at Michigan State University – including the Olin Health Center.
Follow-Up Resources Available
After receiving services at MSU Center for Survivors and MSU Sexual Assault Healthcare Program, a survivor has the option to share their information with a care coordinator, who will contact the survivor to ensure they are connected with follow-up services and support. To that end, the MSU Center for Survivors has crisis services counseling, and therapy services – which are completely free and not limited in time.
The Center is so dedicated to removing barriers barring survivors from seeking their services, that MSU Center for Survivors and MSU Sexual Assault Healthcare Program even offers free transportation assistance to anyone in Ingham, Clinton, or Eaton County.
Open to All – Lansing Resource for Sexual Assault Survivors
MSU Center for Survivors and MSU Sexual Assault Healthcare Program is staffed 24 hours a day, 7 days per week by a forensic nurse examiner. Their services are free and confidential – the Center does not even ask for your insurance card.
The Center offers free forensic medical exams to any adult who was sexually assaulted within the past 5 days. You do not have to be a student at Michigan State University – any adult experiencing sexual assault is welcome at the Center.
Although the opening of such an innovative center does not negate the tremendous harm that has been done to the survivors of Nassar, it is certainly a step in the right direction. We are pleased with these new resources available to survivors of sexual assault in the greater Lansing area, and it was a pleasure to tour the Center and learn more about its invaluable and much-needed services.