Michigan Lawyers Weekly Honors Tom Sinas as a "Go-To Lawyer" in Negligence Law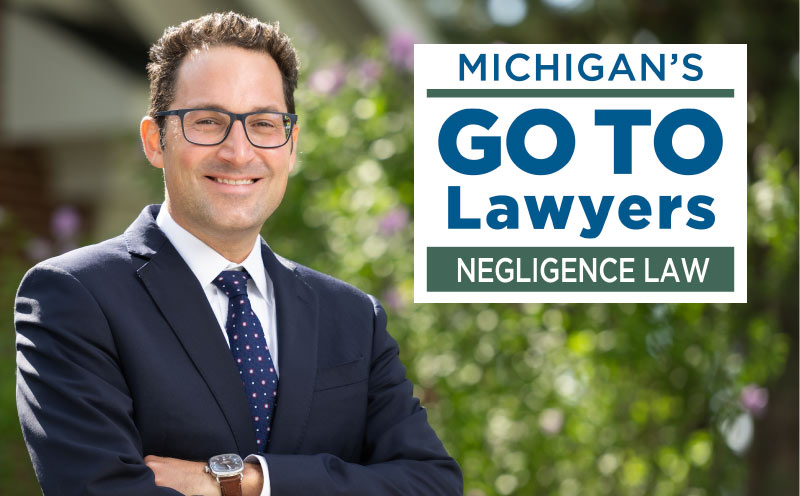 Sinas Dramis Law Firm is delighted to share that shareholder Tom Sinas has been recognized as a "Michigan Go-To Lawyer" in the field of negligence law by Michigan Lawyers Weekly. This prestigious honor acknowledges Tom's expertise, dedication, and contributions to the legal profession, particularly in the field of personal injury law in both West Michigan and across the state.
The "Michigan's Go-To Lawyers" program, now in its fourth year, spotlights attorneys who have earned the respect and admiration of their peers, who nominate them for recognition. These individuals are renowned for their in-depth knowledge of the law, allowing them to provide top-tier legal representation to their clients. What sets a "Go-To Lawyer" apart is their reputation for excellence, their creative problem-solving skills, and their willingness to explore all available options to benefit their clients.
Tom is just one of two Grand Rapids attorneys to receive the recognition and the only one who focuses on plaintiff's personal injury claims such as motor vehicle crashes and wrongful death cases. Tom opened and has managed the Sinas Dramis Law Firm's Grand Rapids office location for more than 10 years and has represented countless clients in West Michigan in a variety of personal injury cases. Tom is responsible for some of the firm's largest results and is considered an authority on the topic of Michigan auto no-fault law.
Tom's recognition as a "Michigan Go-To Lawyer" is a testament to his dedication to the legal profession and his unwavering commitment to serving his clients with the highest level of expertise and care. His dedication to serving his community and his outstanding legal expertise have earned him numerous accolades, including being named a "Top 10 Plaintiff's Personal Injury Lawyer" in Michigan by Leading Lawyers and the "Best Personal Injury Attorney in Grand Rapids" by readers of the Grand Rapids Magazine. Additionally, Tom has been recognized by Michigan Super Lawyers and Best Lawyers. Tom was also recently inducted as a Fellow in the prestigious International Society of Barristers.
For Tom, there's nothing more important than standing up for the rights of someone who's had their health or independence taken away from them.
I would like to thank the sinas dramis law firm especially Tom and his amazing staff for representing me in my case . Truly amazing people I would recommend the law firm 100% ..
My now 89 year-old mother was injured in a car accident 17 years ago and requires 24 hour care. She is one of the many catastrophically injured victims thrown off the cliff this year by the new no fault auto law, enacted in haste and secrecy by Michigan's "brilliant" lawmakers. Not even the case manager assigned by the insurance company could find agencies or caregivers willing to provide attendant care at the slashed-to-the-bottom reimbursement rates. I was left to negotiate contracts with the

...

insurance company and the MCCA, so my mother does not have to go to a nursing home. Friend of a friend recommended Katie Tucker as the attorney who had experience with these issues. I did a lot of research of the new auto law on my own but I still had a lot of questions and uncertainties how to proceed. I don't have enough words of praise of the professionalism, expertise and kindness I experienced with Katie and her team. She was very generous with her time, going above and beyond just simple answers to my questions. Her expertise in the new law, the knowledge of court challenges filed and new legislations introduced, advice about possible outcomes and timelines and overall the behind-the-scene activities is just superior. Katie was always willing to provide additional information both by phone and email, prompt and dependable in all communications and welcoming any further questions I may have had. Through her expert advice she gave me invaluable tools and arguments to advance my case with the insurance adjuster. I am confident that without her help I would not accomplish the compromise that allows my mom to stay safely in her home. Katie Tucker and the Team, YOU ARE THE BEST!

read more
I was fortunate to be able to attend an excellent webinar conducted yesterday by attorney, Tom Sinas, who presented an overview of the new changes to the Michigan Auto Insurance law to a group of service providers, i.e. Vocational Rehabilitation Counselors and Case Managers. Mr. Sinas' presentation was essentially a public service as he did not charge for his efforts or time. While his communication style was clear and calm, his knowledge, experience, and concern for persons seriously injured

...

in automobile accidents in Michigan was extremely impressive. The Sinas Dramis Law firm is clearly a major force in pursuing key litigation and developing case law that will benefit auto accident survivors. Mr. Sinas' presentation demonstrated to all how his firm has earned its excellent reputation for serving consumers and providers across Michigan.

read more
I can not recommend Sinas Dramis Law Firm enough! They treated me so well, were professional and made me feel at ease during stressful times. I am a highly satisfied customer, and I am sure you will be too!-Julia
Please join everyone at Sinas Dramis Law Firm in congratulating Tom on his recognition as a "Michigan Go-To Lawyer" in the field of negligence law!