Michigan Motorcycle Accident Lawyer
While the thrill of the open road may beckon to your adventurous side, operating a motorcycle comes with its fair share of hazards. Because motorcyclists are less visible and lack the same protection as driving an enclosed motor vehicle, injuries resulting from a motorcycle accident are often more serious. Additionally, because the laws governing Michigan motorcycle accidents differ vastly from motor vehicles, it's important to contact an experienced Michigan personal injury attorney to help protect a motorcyclist's rights to auto no-fault benefits and potential liability claims against the driver who caused the collision.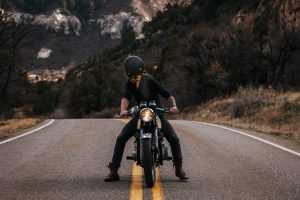 If you were injured in a motorcycle crash, we're here to help. Our firm has decades of experience assisting other motorcyclists and their families navigate this complicated area of law. Please call us today for a free case review at 866.758.0031 or contact us online.
What Every Michigan Motorcyclist Should Know
As a motorcyclist, you are entitled to specific rights. Our experienced motorcycle accident lawyers field questions and concerns from motorcycle operators regarding these rights on a regular basis. Some of the most common we hear include:
These questions are just the tip of the iceberg. Because each motorcycle accident in Michigan is unique with its own set of diverse variables, your case can be a complicated and lengthy process to navigate. When you call Sinas Dramis Law Firm, you'll be connected with an experienced Michigan motorcycle accident lawyer who will walk you through your next steps and explain your rights as a motorcyclist in this state.
Motorcycle Accident Settlements & Verdicts
Sinas Dramis Law Firm has helped hundreds of Michigan motorcyclists and their families obtain the compensation. Whether it's a claim for no-fault benefits or pursuing a negligence claim against the driver of the motor vehicle involved in your crash, we're here to support you and pursue every legal action you're entitled to. Below are a few of the results we've obtained on behalf of Michigan motorcyclists.
$2.9M to single woman motorcyclist struck by a commercial vehicle resulting in serious orthopedic injuries.

$2.77M highway defect case resulting in motorcyclist quadriplegia.

$2.5M wrongful death settlement in motorcycle collision with a construction contractor.

 $1.26M multi-vehicle collision resulting in severe orthopedic injuries to the motorcyclist.

$600,000 liability settlement for motorcyclist who sustained a traumatic brain injury, as well as shoulder and knee injuries.

$250,000 to 37-year-old motorcyclist thrown 20 feet from his motorcycle resulting in loss of consciousness and multiple other injuries.

$100,000 to rider ejected from motorcycle when bales of hay fell from a pickup truck.
What to Do After a Motorcycle Accident

Seek medical attention.
Your first priority after an accident is to take care of yourself. Some of the most common motorcycle accident injuries include:
Broken bones
Road rash
Lower extremity trauma
Because the severity of an injury often takes time to reveal itself, we recommend seeking medical attention immediately. If emergency medical personnel respond to your collision, they will make an initial assessment and recommendation for possible transport to a local hospital and further testing.
Obtain information.
Since many motorcycle collisions involve another vehicle in addition to your motorcycle, it's important to get the other driver's information, including their contact information and insurance information. If police officers are called to the scene, they will assist in collecting the necessary details. The following is further information you might find helpful regarding motorcycle accidents and insurance:
Contact your insurance provider. 
You are responsible for letting your insurance agent know about your accident. While you need to do this in a timely manner after the incident, we caution motorcyclists to first have their injuries assessed and motorcycle inspected. Doing so helps you understand the severity of damages to you and your property. Many insurers underappreciate your damages and attempt to compensate you based on their own interest.
Don't admit fault. 
Admitting fault or denying any injury at the time of the accident can potentially lead to complications and possible denial of your insurance claim. It is best to limit communication with other parties until you are fully assessed medically and have had your motorcycle inspected. While you should never lie to law enforcement or your insurance company, you should seek the legal counsel of an attorney first.
Get legal help.
Motorcycle accidents and the unfolding aftermath can be a complicated process. You have your health and wellbeing to focus on, as well as possible loss of income due to injuries, and damages to your motorcycle. This all combined with the trauma of your incident can easily become overwhelming. Speaking with an experienced attorney helps ensure you receive the compensation you are entitled to.
Tips for Avoiding a Motorcycle Accident
The number one contributor to multi-vehicle accidents involving a motorcycle is poor visibility of the motorcyclist. Increase your visibility by running your headlamps at all times and wearing brightly colored clothing.
Protect your eyes – an estimated 73% of accidents involved a rider with no eye protection and it's likely wind and other elements contributed to the collision.
Be aware, constantly scan the road.
Give yourself space and extra time to respond to other motorists and road conditions.
Don't ride under the influence or when you're tired.
Follow the rules of the road for motorcyclists, especially the speed limit.
Become very familiar with your bike; more than half of all motorcycle accidents involve riders with less than 5 months of experience on the motorcycle involved in the collision.
When to Call a Michigan Motorcycle Accident Lawyer
If you've been seriously injured in a motorcycle accident, your first priority is to take care of yourself. Depending on the severity of the collision, you may need to be taken to the emergency department via ambulance. If you are unable to, local law enforcement should be on the scene to help gather information regarding your accident, such as the other motorist's insurance and contact information.
Once you have been assessed by a medical professional, you should consider consulting with an experienced motorcycle accident lawyer regarding your case. Sinas Dramis offers free consultations and doesn't collect a single fee until you settle or win.
Call (517) 394-7500 for a free case consultation with an experienced attorney today.