Lauren E. Kissel
Lauren Kissel joined Sinas Dramis Law Firm in 2017 as a Law Clerk while attending law school. With an impressive academic track record and a portfolio varied with community involvement activities and volunteering experiences, she was a welcome addition to the team. The firm quickly recognized her incredible professionalism,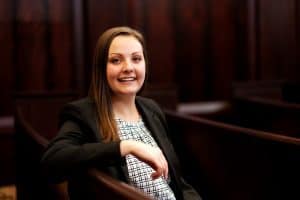 dedication to accuracy and efficiency, proficiency handling sensitive casework, and thorough understanding of the law. Upon entrance to the State Bar of Michigan, Lauren accepted a position at Sinas Dramis Law Firm as a practicing attorney in 2018. She focuses her work on personal injury law, specializing particularly in auto-related accidents in Michigan.
Lauren's background and credentials reveal a character perfectly fit for upholding the law. Even from a young age, she had a strong sense of right and wrong, which helped shape her future career path. In law school, Lauren spent a semester in Washington, D.C. working with the Environmental Protection Agency's Suspension and Debarment Division. She also acted as Managing Editor of International Law Review and participated in MSU's Food Law Clinic, all while carrying a heavy course load and graduating with impressive academic success.
With a passion for pursuing justice for the injured and wronged in Michigan, Lauren's practice is one of commitment to attaining the best results by building trust and camaraderie with her team and clients.
Practice Areas
Personal injury, auto accidents
Noteworthy Cases
$95,000 Liability and third-party liability settlement on behalf of an East Lansing woman who sustained hand injuries in a motor vehicle collision.

 $84,706.78 Recovery of no-fault benefits and liability settlement on behalf of a client who sustained a mild traumatic brain injury after being in a motor vehicle collision.

$20,000 Policy limits settlement on behalf of an Okemoswho sustained a rotator cuff injury after behind rear-ended at a stoplight.
Professional Associations
Women Lawyers Association of Michigan
Ingham County Bar Association – Young Lawyers Section
Education
B.A., University of Michigan, Environmental Studies, 2015
J.D., Michigan State University College of Law, 2018
Admissions

Michigan, 2018
Connect with Lauren Kissel


laurenkissel@sinasdramis.com