Back to School Reminders & Michigan School Bus Laws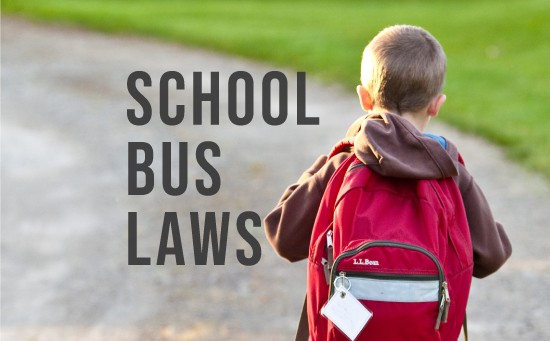 With summer nearing its end and school back in session, it's time for a refresher regarding school buses and tips of keeping our kids safe. Bryan Waldman, Michigan personal injury attorney, recently appeared on the WLNS 6 "Legal Edge" with important back to school reminders and to share the ins and outs of Michigan school bus laws.
Michigan School Bus Laws – Look at the Lights
We are all creatures of habit. So, it can be easy to carry your summer driving habits over into the fall. However, in keeping these habits, it can make the roads unsafe for children coming and going to school. School buses will flash two different colored lights, yellow and red, to signal the appropriate action drivers need to take. It's the driver's responsibility to know the difference between the colors, what they mean, and how to respond.
Once you see the yellow flashing lights, drivers coming from either direction have an obligation to slow down and use caution. This is the bus driver's warning that the bus will be stopping soon. Once stopped, the school bus will flash red lights. Michigan school bus laws mandate that drivers of other cars stop at least twenty feet from the bus. Drivers must remain stopped until the bus has turned off its red flashing lights and has started moving again.
WLNS Legal Edge – Michigan School Bus Laws and More
This information may sound simple, but you'd probably be surprised to learn that most Michigan bus drivers claim at least once a week, cars fly by their vehicle while stopped with their red lights on. This is the case every single time, regardless if the bus is also equipped with and using a swinging stop sign out the driver's side window. When you're in doubt, think of a school bus as a moving traffic signal and treat it accordingly.
How to Handle School Crosswalks
Crossing guards also play a pivotal role in keeping kids safe when going back to school. As soon as the guard steps into an intersection with their stop sign, oncoming drivers must stop. Drivers must remain stopped until all the children cross the street, and the crossing guard clears the intersection.
Blocking Sidewalks with Your Vehicle
Blocking the sidewalk with your vehicle is against the law any time, but is a particular problem during the school year. When your vehicle is blocking a sidewalk, it forces kids getting on or disembarking from school buses to walk around the vehicle into the roadway. This obviously puts school kids at a greater risk
School-Year Reduced Speed Zones
During the school year, schools have the right to restrict driving speeds up to a thousand feet away from their building from a half-hour before the day's first class and a half-hour after the final class of the day ends. It can be easy to forget these reduced speeds during the summer, so motorists must take it upon themselves to pay attention, look at street signage, and obey posted restricted speeds.
Failing to Follow These Traffic Laws
Many drivers believe that if the school bus does not present a stop sign, they do not need to stop. This is not the case. Michigan school bus laws mandate oncoming traffic to abide by the flashing lights only. Breaking these laws can result in the guilty driver to face up to three points on their driving record as well as hefty fines. Additionally, the judge who rules on the guilty driver's case will determine whether the driver should serve community service. If so, they can be mandated to serve up to 100 hours of service at a school.
Failing to stop to a crossing guard yields a more significant consequence than failing to follow school-bus signals. Drivers who fail to stop at a crosswalk with a guard may face a misdemeanor offense.
Tips for Kids Riding a School Bus
Failure to obey a school bus's lights and signage is always the responsibility of the driver. However, below are a few safety tips parents can discuss with their kids, particular the very young ones and new bus riders:
Get off the bus slowly
Look both ways when stepping off the bus
Listen to the school bus driver's instructions
For kids crossing the street, look again both ways before stepping away from the bus
Wear bright clothes
Proposed Bills Will Bring Harsher Penalties for School Bus Law Violators
Grand Rapids auto crash lawyer, Tom Sinas, explained HB4867 recently on Fox 17 "Know the Law." While laws pertaining to school buses would remain exactly the same, recently introduced bills would increase penalties for violators of these laws. Under HB4867, if passed, the Secretary of State would have the authority to suspend a violator's license for a year. In addition, HB4867 proposes increased monetary penalties for violations, increasing exponentially with each subsequent violation.
HB 5038 through HB 5042, introduced in late 2019, seek to even further enhance school bus safety by restricting who can enter a bus without the permission of the bus driver and allow buses to be equipped with stop-arm cameras. Cameras would help gather evidence to enforce penalties on those breaking the law and ignoring school bus stop signs.