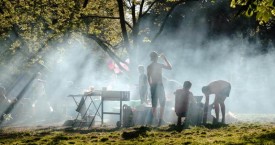 Summer is the reason Michiganders look forward to all year. But sometimes summers get, well, a bit noisy. With everyone spending as much time outside as possible, backyard games and barbeques, house parties and get together, knowing what to do about noisy neighbors can become tricky and unsettling in the neighborhood. Bryan Waldman, Michigan personal injury attorney, recently appeared on WLNS "Legal Edge" to explain what to do about noisy neighbors and neighborhood barking dogs.
Local Peace and Quiet Laws
The best thing to do if you are wondering what to do about noisy neighbors is to simply talk with them. However, if that fails, check your local ordinance. Local law governs the community when setting standards for what is considered reasonable and unreasonable. Therefore, it will likely be local ordinances that outline what is considered reasonable and unreasonable neighborhood noise levels.
Check your local ordinances for noise violations:
Consequences for a noise complaint include a civil infraction and small fines.
WLNS Legal Edge – Understanding Noise Violations and Your Options
What to Do if Your Neighbor's Dog Won't Stop Barking
If your neighbor's dog won't stop barking, it is important to ensure to contact the correct authority. When a dog is barking for prolonged periods, it's considered a noise violation, not an animal violation. Therefore, you should contact local law enforcement as opposed to animal control. It's also important not to jump the gun and create neighborly discord. For example, in the time it takes for police to respond to your call, the animal could quiet down. Before calling, make sure it's really worth the potential fall-out that could ensue.
If it is an emergency situation, contact police. But since noise complaints are hard to enforce, it is important to gather evidence. Taking videos and recordings before going to the proper authorities will help enforce the case against your noisy neighbors.
When it comes down to handling your noisy neighbors, always try to be a good neighbor.