Sinas Dramis Attorneys Sworn into Bar of the United State Supreme Court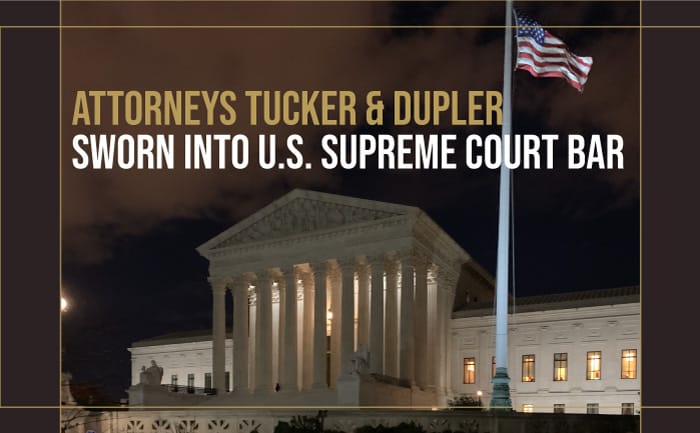 On Wednesday, November 13, 2019, Sinas Dramis attorneys Jackie Dupler and Katie Tucker, along with 10 other members of the Mid-Michigan region of the Women Lawyers Association of Michigan were sworn into the Bar of and to practice in front of the United States Supreme Court by Chief Justice John G. Roberts. The swearing-in ceremony took place at the beginning of the Court session, in front of eight of the sitting Justices. Unfortunately, Justice Ruth Bader Ginsburg was absent due to illness. Honorable Michelle Rick, Clinton County Circuit Court Judge who is also currently running for the open seat on the Michigan Court of Appeals, moved for the admission of the 12 WLAM Mid-Michigan members to the Supreme Court's Bar.
United States Supreme Court Bar Admittance Qualifications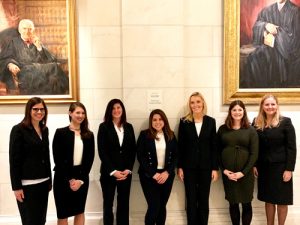 Qualifications for admittance to the Supreme Court's Bar include:
(1) being admitted to practice for a period of at least 3 years immediately before the date of the application;
(2)  not being the subject of "any adverse disciplinary action pronounced or in effect during the 3-year" period; and
(3) appearing to the Court as being of "good moral and professional character."
In addition, as a practical matter, an application for admission to the Court's Bar must be supported and signed by two current members of the Supreme Court's Bar.
Swearing-In Ceremony
Katie Tucker is the current President of WLAM's Mid-Michigan region, a position which she has held since 2016. Katie, along with several other members of the WLAM Mid-Michigan Board, organized the small group admission ceremony for WLAM Mid-Michigan. Plans for the United States Supreme Court Bar admittance ceremony began a year ago, in the fall of 2018. Because the Supreme Court only hears a very limited number of cases each year, there are also very limited days that the Court is in session, and the swearing-in date was set months in advance.
Following the small group admission ceremony, Jackie, Katie, and the ten other members being sworn into the Court, along with their guests, observed two oral arguments presented to the Court for consideration that day.
"Watching our country's Justices in action firsthand and engaging fellow attorneys in debate was fascinating," Tucker says of the oral arguments. "I will never forget this experience." 
"To be sworn into the bar of the Supreme Court of the United States is an honor," Dupler says of the occasion. "It is a pivotal moment in every attorney's career who is fortunate enough to experience it." 
Please join us in recognizing this monumental occasion and congratulating attorneys Tucker and Dupler!