Tom Sinas Named a Top Lawyer in Grand Rapids by Grand Rapids Magazine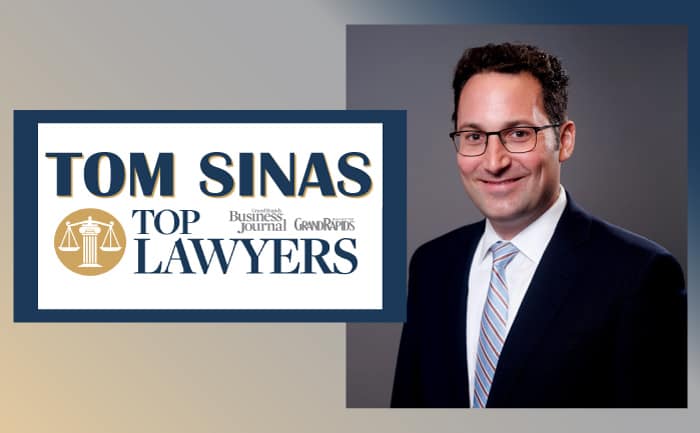 In an effort to help West Michigan residents find the best lawyer for their legal matter, Grand Rapids Magazine and Grand Rapids Business Journal recently published the Grand Rapids 2019 Top Lawyers List. We are proud to announce that attorney, Tom Sinas, received this noteworthy distinction.
Inclusion as a Top Lawyer in Grand Rapids is solely based on a peer-review survey sent out to local licensed attorneys. Those receiving the most votes were named 2019 Top Lawyers in Grand Rapids. For people researching "best attorneys in Grand Rapids," this list provides further proof of excellence within the legal field and incredible standing and reputation among an attorney's peers.
Tom's Road to Recognition as a Top Lawyer in Grand Rapids
When Tom Sinas relocated his family and practice from Minnesota, he had one goal – to bring the same standard of excellence in personal injury law established long ago by his grandfather and firm's founding partner, Thomas G. Sinas, to the people of West Michigan. But Tom didn't stop there. He also became intricately involved in the communities his new office served.
Lids for Kids Grand Rapids
First, Tom brought Lids for Kids directly to the families of West Michigan. This bike helmet giveaway aims to prevent brain injuries in kids. To date, Tom and members of the West Michigan Sinas Dramis Team, have given away more than 3,000 helmets to Grand Rapids area kids.
West Michigan Fox 17 "Know the Law"
Next, Tom began working with local news channel Fox 17 to establish the "Know the Law" campaign. The mission of "Know the Law" is to educate West Michigan residents about their legal rights, changing laws, and provide a simplified explanation of more complex legal topics. Tom has built a reputation as the top lawyer in Grand Rapids who understands the law and, more importantly, strives to help others better understand it, too. "Know the Law" airs every Saturday morning.
Leadership Roles in Grand Rapids
In addition to his community involvement, Tom is also dedicated to many professional Grand Rapids area organizations. He rose to leadership positions within the Grand Rapids Bar Association, Kent County Legal Assistance Center, State Bar of Michigan, and Michigan Brain Injury Association, earning numerous accolades along the way. He was named a Michigan Super Lawyer in 2019, a "Rising Star" from 2015-2018, and an "Up & Coming Lawyer" by Michigan Lawyers Weekly in 2016. In addition, Tom received the "Prevention Award" from Brain Injury Association of Michigan in 2016 and AVVO's Clients' Choice Award numerous times.
Tom's Dedication to His Clients
In addition to Tom's various leadership roles and accolades, his commitment to obtaining justice for his clients remains his most important focus. Tom has achieved some of the firm's largest personal injury settlements and verdicts. However, and possibly the most rewarding aspect yet, are the numerous words of praise he routinely receives from his clients. This, truly above all else, is what makes Tom a Top Lawyer in Grand Rapids.
Full announcement and Top Grand Rapids Lawyers listing.
Please join all of us at Sinas Dramis Law Firm in congratulating Tom on this unique and well-deserved distinction!