Tom Sinas Earns Top-Rated Grand Rapids Personal Injury Attorney Ranking Third Year in a Row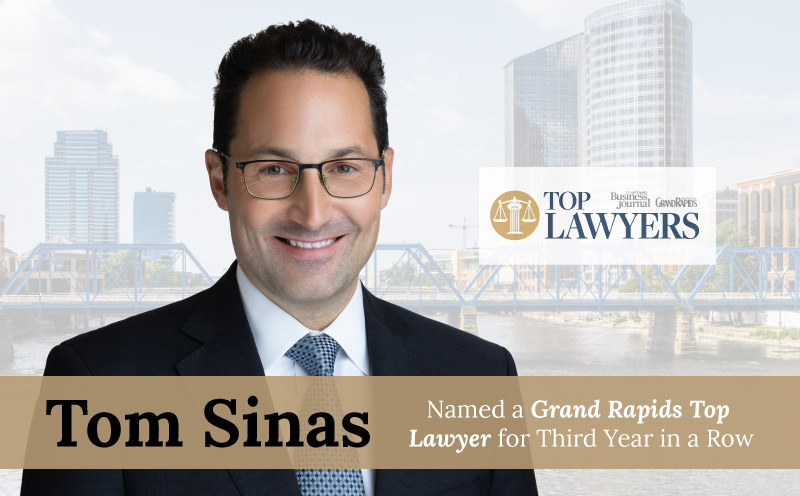 For the third year in a row, Grand Rapids Magazine and the Grand Rapids Business Journal have recognized Personal Injury Attorney Tom Sinas on their 2022 Top Lawyers List. Becoming a top-rated Grand Rapids personal injury attorney is a distinction that is earned and based on an online peer-review survey sent out to the local legal community.  
Dedication to his clients 
Tom's repeated recognition by his peers shows he is one of the top choices for those injured in West Michigan and across the state. Tom's dedication to personal injury law and, more importantly, his clients set him apart. He strives to create a positive experience for anyone who interacts with Sinas Dramis, including those Tom and his staff have taken on as clients and even those who end up not needing Tom's legal services: 
"It really impressed me that despite having my information and knowing that I would not need their services, AKA they can't make any money off me, they still went through with the call and spent a better part of a half hour walking me through the legal options in my scenario I don't want another injury, but I know who my first call will be."- Zachary 
"Tom Sinas worked with our family after a serious head on collision impacted our family for life. He and his team had integrity, were respectful, compassionate, and provided excellent, wise advice. We are grateful we contacted him." – Julie 
"After my husband was in a terrible head-on collision in January, Tom came right to the hospital and assured us he and his team were there to help with the process to help seek justice and compensation for our family. They were always readily available for any of our needs, even through this difficult time in covid era. We appreciate all the hard work and successful outcomes of our case! Thank you, Tom Sinas and Kayleigh Rose! It's been a pleasure." – Natasha 
"Tom Sinas is an attorney I would never hesitate to refer someone to. It's truly clear that Tom's motivation isn't his firm's revenue, but the results and counsel he provides his clients. Tom and I are somewhat odd bedfellows as I own an insurance agency. Unfortunately, there are times when Tom needs to pursue legal complaints against insurance companies to help his clients get the benefits they deserve. I've had the pleasure to work with Tom in-person seminars and on webinars educating Michigan consumers and even other Michigan Insurance agents on the changes to the Michigan No-Fault insurance law. Tom is nothing but PROFESSIONAL. If I needed the expertise Tom has, I'd select only him to represent me." – Mike 
To read more client endorsements head to our testimonials page.
Other Top-Rated Grand Rapids Personal Injury Attorney Attributes  
In addition to advocating for Michigan's injured, Tom also dedicates time to both the people who live in West Michigan and the legal community. Shortly after opening the Sinas Dramis Grand Rapids office, Tom has made almost weekly appearances on Fox 17's "Know the Law" segment, which educates viewers on a wide variety of personal injury and public interest topics. It's also common for Tom to speak on legal topics for care providers and the public, particularly in the wake of the 2019 Auto No-fault reform. In the legal community, Tom holds several positions, including vice-chairperson of the Brain Injury Association of Michigan, and as a Commissioner for the State Bar of Michigan. He is also a former trustee of the Grand Rapids Bar Association. Other distinctions received by Tom recently include "Best of Grand Rapids," Top 10 Plaintiff's Personal Injury Lawyer by Leading Lawyers, and Michigan Super Lawyers. 
For Tom, he believes that everyone deserves to be treated fairly, and there's nothing more important than standing up and fighting for someone who's had some aspect of their health, or their independence taken away from them. This recognition only speaks to that belief and his commitment. 
Please join everyone at Sinas Dramis Law Firm in congratulating Tom on this well-deserved distinction.