Why Your Car Accident Police Report Is So Important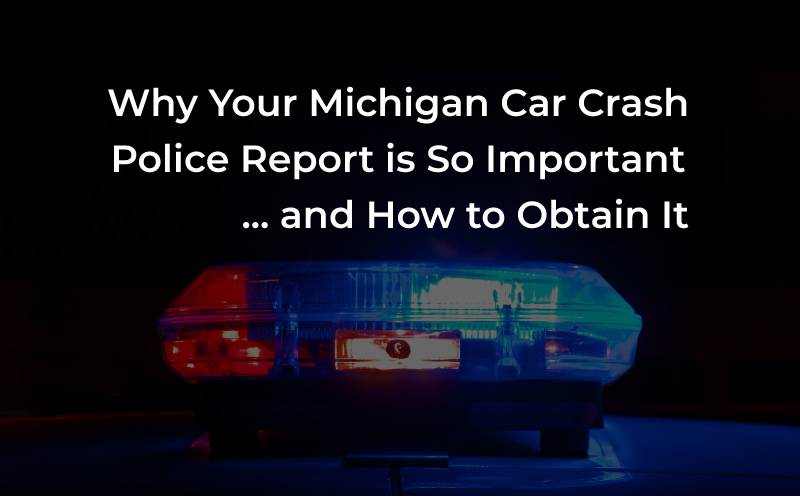 After a car crash in Michigan, you'll likely be shaken up and possibly overwhelmed by all of the things you should do following an accident. While there are many things you will need to handle after the crash, including seeking medical attention for any car accident injuries, one of your most important action items getting a copy of the car accident police report.
Here's why.
---
Why Your Car Accident Police Report is So Important
The main reason you need a copy of the police report is to provide it to your auto insurance company to claim Michigan no-fault PIP benefits. These benefits are payable no matter who was at fault for the crash. They include:
When you get a copy of the police report, it is important to review it right away. Make sure it's accurate before submitting it to your auto insurance company. The bottom line is this: you don't want any problems when processing your PIP benefit claim because of inaccurate information on the car accident report.
Bottom line – getting your police report early ensures it's accurate and your no-fault benefits are paid without a hiccup.
If something is mistaken, you need to immediately address the error and get it corrected before submitting the report to your insurance company.
Be forewarned that some insurance companies will tell you that they will get a copy of the police report for you. Unfortunately, this can be a delay tactic for some insurers … and delays may jeopardize your claim for PIP benefits. So it's best to order the report on your own, review it, get any mistakes corrected, and provide it to your auto insurer.
Another reason to get a copy of the crash report? You will need it in case you file a lawsuit against the other driver for noneconomic damages (pain and suffering) and excess economic loss damages. Basically, the report will be needed to show the other driver was negligent or at-fault.
If you sue the other driver for damages, you will also need to be represented by an experienced Michigan car accident attorney. And while it's true that your lawyer can get a copy of the police report, already having it in your hands helps your attorney hit the ground running in your case.
---
Accident Reports and Semi-Truck Collisions
If you're injured in a Michigan semi-truck accident, getting the police report is particularly critical and should be done as soon as possible. Here's why:
You'll need the accident report to file a claim for trucking accident benefits, especially because your injuries will likely be more severe than if you were in a crash with a passenger vehicle.
You'll need the report if you want to file a trucking accident claim against the semi-truck operator, owner ,and insurer, and it will help your semi-truck accident attorney get a jump-start on any legal proceedings.
Trucking companies' insurance carriers and investigators move quickly to gather evidence in an effort to minimize the liability of the truck driver.
---
How Do You Get the Police Report?
There are two ways to order the police report after an accident: 1) online and 2) in person.
Most Michigan police departments make accident reports available online through websites like TracView, Michigan State Police and Clemis. You will pay a small fee for the report and then be able to download it for your own use. Take note that, if you order a report online, you must have sufficient information, including:
the names of the driver(s) involved in the crash;
the name of the police department that responded to the accident; and
the incident report number.
If you don't have Internet access or don't have a credit card to pay online for the report, you can always get it by going to the records department of the police agency that responded to the crash. There will be a small fee to get the report (fees vary by police department).
In this video, Grand Rapids personal injury attorney Tom Sinas talks about gathering evidence after a car accident, including the police report.
If you've been injured in a motor vehicle collision, our experienced Lansing auto accident lawyers and Grand Rapids car accident attorneys are here to help get you the compensation that you deserve. Contact our Michigan injury lawyers today for a free initial consultation.
How to Obtain a Lansing Police Report
Options to obtain your Lansing Traffic Crash Report: 
1) To request a copy of a Lansing Police Department Traffic Crash Report, click here. The cost for this is $10.
2) To obtain a copy of a Michigan Traffic Crash Report instantly, visit Lexis Nexis. The cost is $19.
Note: When ordering online, you'll need the following: The date of the accident and the accident report number.
How to Obtain a Kalamazoo Police Report
The city of Kalamazoo uses Lexis Nexis to help people find their Kalamazoo car accident police report (link below). This web service allows users to pay for accident reports with Visa, MasterCard, Discover, or American Express.
How to Obtain a Grand Rapids Police Report
The city of Grand Rapids uses Lexis Nexis to help people find their Grand Rapids car accident report (link below). Make sure you have one of the following information:
Report number
Last name and date of the incident
Last name and street