Use Caution When Driving Through Michigan Construction Zones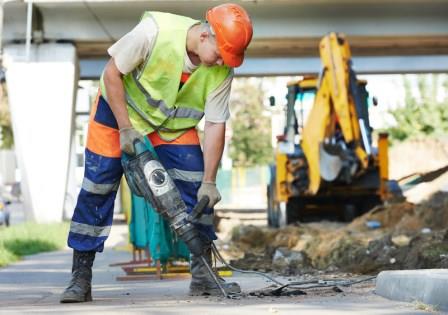 Workers in these zones put their lives on the line to repair our roads – we should do our part by obeying Michigan work zone safety laws while driving.
A construction zone accident in North Carolina last week garnered quite a bit of attention on social media, especially with Departments of Transportation across the country. It should serve as a reminder to all of us, especially as the weather continues to improve and orange barrel season in Michigan soon approaches. As construction workers put themselves at risk to improve our roads, bridges, and infrastructure, we should do our part to keep them safe by making sure we slow down in areas where they are working, that we limit our distractions while in construction zones when workers are present, and that we slow down and give them as much space as possible as we pass them.
In case you missed it, a North Carolina Department of Transportation engineering technician was struck and killed by an impaired driver whose vehicle veered off the highway and into the median. While two other workers managed to move out of the way in time, the victim was less fortunate. The driver was charged with driving while impaired, felony death by vehicle, and child endangerment (there were two young children in the car).
What are some of Michigan's work zone safety laws?
What happened in North Carolina could have just as easily happened in Michigan. As mentioned above, it's the time of year when we start to see more construction workers on our roads, fixing bridges and patching potholes . As motorists, we have a responsibility to obey the traffic laws governing construction zones. If workers are present, drivers must reduce their speed to 45 miles per hour; if workers are not present in a marked construction zone, it is permissible to drive at the posted speed limit. Keep in mind, however, that it might not always be prudent to travel at the posted speed limit in these areas, especially at night. Although you might not see workers, they might still be on-site.
Consequences of disobeying Michigan work zone safety laws can be severe. For instance, the passing of Andy's Law (2008 PA 296) amended Michigan law to imposed fines for injuring or killing anyone in a work zone as high as $7,500 or imprisonment for as long as 15 years. In addition, if you are caught speeding in a work zone, the number of points assessed on your license is as follows:
Three (3) points for driving 10 mph or less over the posted speed limit;
Four (4) points for driving between 10 mph and 15 mph over the posted speed limit; and
Five (5) points for driving more than 15 mph over the posted speed limit.
The accumulation of points on your license may also very well result in an increase in your car insurance rates.
Of course, motorists are not always the cause of injuries to construction workers. Construction zone conditions might also contribute to an injury. However, construction workers injured on the job are subject to a different law if they wish to pursue a legal claim as a result of the injury they sustained. While private citizens injured in a construction area may bring a claim for negligence against the construction company as well as the owner of the premises upon which construction was taking place, the same options are not available to the workers. Those individuals may only bring claims outside the traditional workers' compensation laws in specific circumstances.
All in all, let us all be mindful of the highway construction zone workers on Michigan roads – failing to obey the law can have disastrous consequences.