Sinas Dramis Earns Multiple Rankings in 2020 "Best Law Firms" List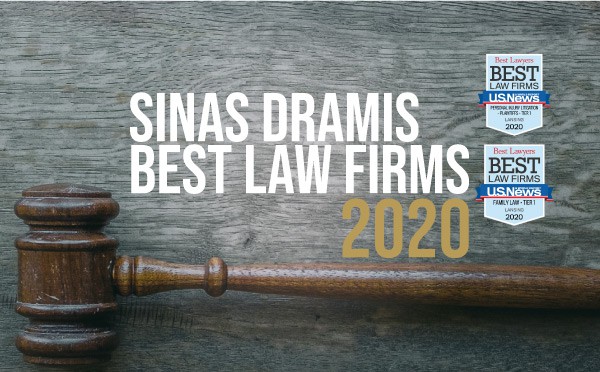 It is with great pleasure we announce the firm's rankings in the 2020 "Best Law Firms" List. These rankings indicate professional excellence, exemplary client and peer ratings, and a unique combination of legal knowledge and skills. In addition, earning a tiered recognition signals excellence and breadth of legal expertise in that area of law.
This year, Sinas Dramis Law Firm received the following tiered rankings by U.S. News and Best Lawyers:
Metropolitan Tier 1 – Lansing

Plaintiffs Personal Injury Law
Family Law

Metropolitan Tier 2 – Kalamazoo

Plaintiffs Personal Injury Law

Metropolitan Tier 3 – Detroit

Plaintiffs Personal Injury Law
Sinas Dramis Law Firm – a "Best Law Firm" Across the State
Long recognized as a leading authority in personal injury law in mid-Michigan, we are happy to expand our services to clientele in other metropolitan areas throughout the state, including Grand Rapids, Kalamazoo, and Detroit. Due to this expansion, this year we ranked in two new metropolitan areas – Kalamazoo and Detroit. Prospective clients in those communities can use this information to rest assured they're receiving highly skilled legal services when they retain one of our Michigan personal injury attorneys.
Why These Recognitions Matter
Tim Smart, executive editor at U.S. News put it best when he said, "Law firms perform a vital role in American life, and ranking them is a key extension of our overall mission to help individuals and companies alike make important decisions."
When people search for "best law firms near me," they obviously want the very best legal representation they can find. But oftentimes it can be difficult to understand what truly sets law firms apart. Recognitions such as this inclusion in the 2020 Best Law Firms List is concrete information consumers can use to compare prospective attorneys and firms in their decision-making process.
We are thrilled with this year's recognition – including our expanded recognition in new metropolitan areas – and are committed to continuing to advocate for and represent our clients with the passion, integrity, and empathy that garner the firm such prestigious inclusions.