How Trucking Companies Fight Lawsuits and What to Look for in a Lawyer to Challenge Them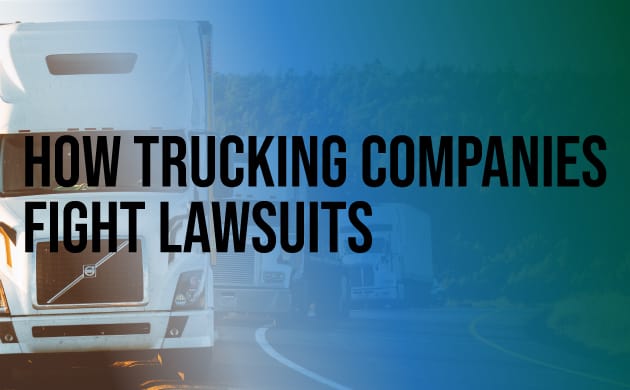 Your life can change in the blink of an eye – and for one family, that's exactly what happened one morning in rural Michigan when a reckless commercial truck driver caused a completely preventable crash. But despite the immediate devastation, the trucking company's handling of the situation was further insult to the family's many injuries. The following is a tragic example of how trucking companies fight lawsuits, avoid liability, and treat seriously injured people based on simple factors like one's home address. This article also outlines the reason why it's paramount to find an attorney who will go to bat for your family, has experience handling complex cases, and will literally fly across the country to ensure that you receive justice.
If you or your family have experienced the devastation of a collision with a semi-truck, we're here to help. Call us today to discuss your case and see how we can help you at 866.758.0031 or submit an online contact form and we'll be in touch.
Semi-Truck Collision Case Facts
Liability was clear in this case. The family vehicle had the right-of-way and the truck should have yielded. The impact of the automobile-vs-truck collision was devastating and life-altering to all family members involved.
Building a Commercial Truck Case – What to Look for in a Lawyer
The family immediately knew they needed legal counsel and thus retained our firm. Drawing from a wealth of experience handling semi-truck collision cases, our attorneys knew to act quickly because preserving evidence was of utmost importance. As a result, we deployed a "rapid response" approach. This consisted of gathering evidence, drafting spoliation letters that require the opposing trucking company to also retain any evidence they may have, and retaining skilled experts. We used the information we obtained later when the trucking company tried to minimize its liability. This experience is what to look for in a lawyer should you find yourself in a similar situation.
While we were preserving evidence, the trucking company, headquartered in another state, was prepping for defense by immediately retaining skilled legal counsel in Michigan. Yet, despite their ability to conduct surveillance of our clients and hire their own experts, they surprisingly could not locate the trucking company's employee – the reckless truck driver – who fled to another state after being criminally charged.
Failed Pre-Suit Mediation
The parties attempted mediation before a lawsuit was filed. We were apprehensive because pre-suit mediation is often not successful in large commercial semi-truck cases. Yet despite our apprehension, we undertook enormous effort to develop the most comprehensive facilitation strategy, and a presentation consisting of videos, written materials, and expert reports. Not every firm does this. Some attorneys show up to the facilitation table hoping for an easy agreement, assuming their clients don't know better. This is another thing to look for in an attorney – preparation, strategy, and tireless effort on your behalf.
This pre-suit mediation took place in Michigan. As we expected, the facilitation was lackluster, at best. Here's why – unfortunately, many defense attorneys and insurance companies devalue claims based on simple demographics, such as place of residence. Our clients were of modest means and from a rural, conservative county. Oftentimes, jury trials under such conditions tend to not favor plaintiffs, further complicating these already massively complex cases. But this did not deter us.
Relocating Jurisdictions – Going the Extra Mile
We informed the defense counsel that litigation would not take place in this rural county. In fact, we said that if the defense continued to belittle and devalue our clients' claims, we would take the case out of Michigan altogether, and try it in the county where the trucking company is headquartered. The defense apparently thought we were bluffing. We weren't. This is the type of litigation strategy that sets Sinas Dramis apart. We aren't afraid to use an out-of-the-box tactic or go the extra mile. And, in this case, it was many, many extra miles.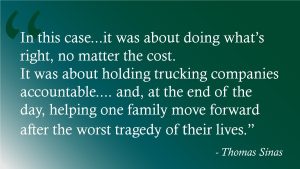 We knew taking this case out-of-state would require us to hire highly-skilled local co-counsel whose services would result in fee-sharing. We knew an out-of-state trial would mean hiring extra experts and being ready to bring witnesses across the country to testify. It would mean long hours, extra work, layovers, and checked bags. But this is exactly what we did.  And if you experience a similar tragedy, this is the distance your legal counsel should be willing to go for you, too. This is what to look for when hiring an attorney.
Reaching a Favorable Settlement with a Trucking Company
The trucking company's defense immediately went to work to keep the case in Michigan. They argued it should be litigated in the same place the accident took place. However, our firm defeated the motion, and, shortly thereafter, with the assistance of an out-of-state mediator and out-of-state defense counsel, reached a global settlement of $7,000,000.
"In this case, while the settlement amount was significant, there were bigger principles at stake," says Grand Rapids car accident attorney, Tom Sinas. "It was about doing what's right, no matter the cost. It was about holding trucking companies accountable and not letting them devalue people based on where they live or how much money they make. This case was truly about thinking outside the box and collaborative strategizing. And, at the end of the day, it was about helping one family move forward after the worst tragedy of their lives. It was my deep privilege to work with this family."
Hiring an Attorney After a Commercial Trucking Collision
Of course, we never wish this scenario on anyone else. But if you've found this article because you've recently been hit by a semi tractor-trailer, we're here to help. A skilled and experienced attorney at Sinas Dramis wants to help your family. Call us today for a free case review at 866.758.0031 or contact us online.
RELATED ARTICLES