The Dangers of Buying Car Insurance Online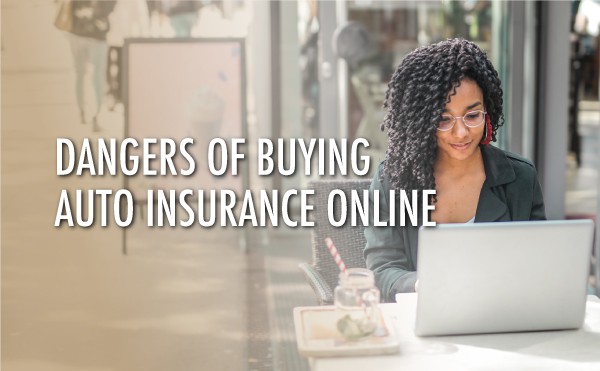 Authored by Lansing car accident lawyer, Kevin Komar
Life moves today faster than it ever has before thanks to the onset of the digital age. You can buy a car online now, have it delivered to your home, and never have to set foot inside a dealership, for example! Buying car insurance online is now an option, too, which means never having to connect in-person with an insurance agent. In fact, more and more people are skipping the agent and buying their auto insurance directly online. However, there are some serious pitfalls to buying auto insurance online that many people don't know about. These pitfalls can end up costing you a fortune if you're injured in a car crash or hurt someone else.
Auto Insurance Fraud – the "New Trend" for Carriers to Deny Claims
By design, insurance carriers ask for very little information from you online. However, in return, you have to sign page after page of agreements riddled with language that allows the insurer to use the dreaded F-word: fraud. 
The moment you are in an accident, your insurance company will go over all of the forms you filled out online. They are looking for any reason to claim you committed insurance fraud. These days, unfortunately, everything is fraud to an insurance company, especially if you obtained your insurance online. It's the new trend insurers use to deny claims. Rather than dispute the injuries or cause of the accident, many insurers are claiming fraud when the policy was purchased online.
You might wonder how these insurers can do this? Below are examples we most often see insurance companies use to deny claims:
Resident relatives – carriers love to claim they did not know you had another relative living in your household at the time you purchased your auto insurance online.
Use of vehicle – carriers will dispute what your use of the vehicle was when you bought the policy.
Vehicle operator – carriers claim they were never notified of who was going to drive the vehicle when you took out the policy.
Avoid Claim Denial – Purchase Auto Insurance In-Person
Smart consumers don't give insurance carriers a leg up. The best way to ensure your claims are paid and to avoid claims of fraud is to:
Talk to an agent. With virtual doctor consults, Zoom meetings, and chatbots available at your fingertips nearly any time, day or night, we understand direct contact isn't necessarily everyone's preferred method of communication. However, agents can really help ensure you get the right auto insurance coverage. They ask the right questions and can find the right policy for you and your budget. More importantly, they can describe auto insurance language so that it's actually understandable, unlike online options.
Update your policy when household resident change. The number of drivers in your house matters and can change your auto policy. Conversely, not notifying your auto carrier of changes in drivers living in your household can be grounds for claims of fraud. Updating your policy online is complicated and tedious – which is by design. An agent helps update and change your policy more quickly, efficiently, and properly. Be sure to contact your agent if any of the following examples occur:
You get married and your spouse moves in
Your college-aged student returns home
Your military child moves back in while adjusting back to civilian life
You move your elderly parents into your home to care for them
Your teenaged child gets their driver's license
The bottom line is, if the number of drivers in your house changes at all, call your agent.
Update your policy when your use of vehicle changes. Many insurance carriers don't ask much about your use of the vehicle when completing online forms. In fact, some don't mention vehicle use at all. And, you guessed it, this too is by design. This little technique allows the carrier to deny benefits by claiming that it didn't know how the vehicle was being used. The unfortunate trend now is for insurance carriers to claim they didn't know you were using the vehicle for work and therefore they deny your claim. Many people will think of notifying their insurer of a company car, but below are a few of the following examples we've seen where the vehicle owner didn't think to mention the vehicle's use to their insurer:
Grocery shoppers/deliverers
Rideshare drivers
Mail deliverers
Trucks used for hauling company trailers M-F, and the family boat on the weekends
The bottom line is, if you use the vehicle for any business purpose other than commuting, you have to let your insurance company know.
Purchase From an Agent Over Buying Auto Insurance Online
We always recommend consumers purchase their auto insurance directly from an agent. It's even better if you can go meet with them in-person to go over your policy before signing anything to make sure all of your information is correct.
Finally, we understand a lot of people are shopping for auto policies right now as the auto insurance law in Michigan recently changed. If this is where you fall and aren't sure which coverages are the best now in Michigan, we recommend the following:
Opt for unlimited no-fault PIP coverage;
Purchase as much liability insurance as possible;
Purchase significant amounts of uninsured and underinsured motor vehicle coverage;
Avoid step-down policies;
Avoid managed care options.
Read our full article with our auto insurance recommendations under Michigan's new no-fault law here.
RELATED READING
Michigan's New Auto Insurance Changes – What Buyers Need to Know
Risks of Using Car Insurance Tracking Devices
Delay, Deny, Defend – Tactics Insurance Companies Use to  Avoid Paying Claims
Business Vehicle Coverage – Steps to Take to Ensure Proper Coverage