Concussion NFL Movie Opens on Christmas Day – Will you see it?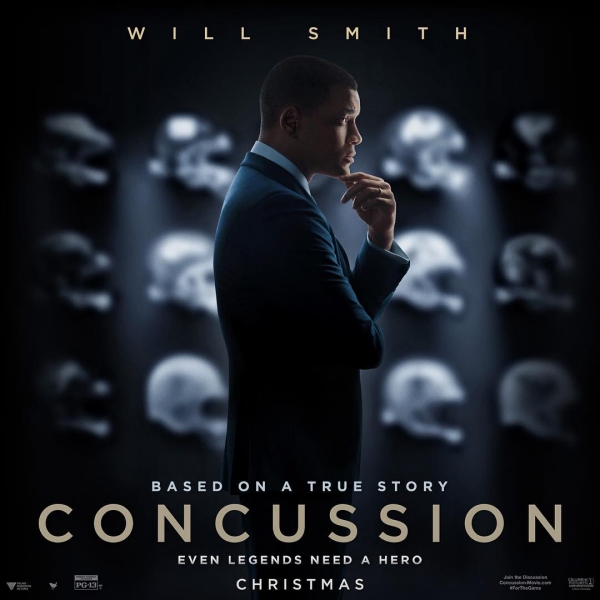 Concussion Film about NFL and brain injuries suffered by professional football players contributes to the debate
As you many know, brain injuries, specifically concussions, have been an important topic of conversation in the world of professional football in the United States, especially in recent years. With stories about retired NFL players committing suicide or otherwise suffering from debilitating brain injury as a result of repeated head trauma, Concussion, a movie about this very issue starring Will Smith, is very timely.
Concussion, which opens on Christmas Day, details the discoveries made by Dr. Bennet Omalu, connecting football and the head trauma associated with the game with development of CTE, a degenerative brain disease found in many football players, both professional and amateur (and unfortunately, only diagnosed post-mortem).
The Concussion movie comes out at a time when people are continuing to discuss and debate the pros and cons of playing football, either on the amateur level or professionally, while taking into account the studies associating playing the sport with the development of CTE, the symptoms of which include depression, anxiety, memory loss, aggressive behavior, and suicidal tendencies. Much of the conversation has turned to protecting players from repeated traumatic blows to the head, which can ultimately lead to life-altering changes to the brain and how it functions.
Some progress has been made over the past few years. The NFL has responded to concerns by changing some of the rules of the game. As reported by Reuters, the league's senior vice president of health and safety policy, Jeff Miller, noted that "[R]ecent rule changes, such as penalizing helmet-to-helmet hits, have helped reduce the number of concussions in regular season games by 34 percent over the past three years." As additional precautions are made, we hope those numbers will continue to decrease over time.
Of course, research into the prevalence of concussions and other related brain injuries in football are not only useful for those who play sports, but also for those who have suffered traumatic brain injury via other means, including auto accidents. Thankfully, those in Michigan have a number of resources of which they can take advantage in order to get the help they need. We have seen this first hand through our law firm's representation of car accident and other personal injury accident victims throughout Michigan and beyond. Our lawyers have helped brain injury victims access the medical care and rehabilitation they need in order to return as normal a life as they can, given the circumstances. Let us know how we can help you, a loved one, or a friend.