George Sinas Receives Respected Advocate Award from Michigan Defense Trial Counsel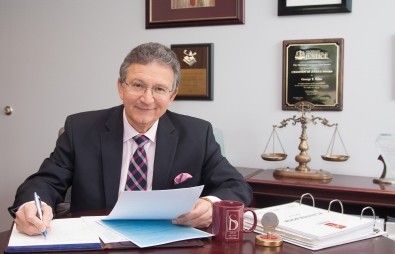 Michigan personal injury lawyer George Sinas was recognized by the defense bar for his leadership and ethics in representing clients and protecting the Michigan No-Fault system.
George Sinas recently received the 2015 Respected Advocate Award from the Michigan Defense Trial Counsel during the State Bar of Michigan Awards Banquet. He was recognized for his tireless, ethical efforts and leadership in protecting the Michigan no-fault law. George joins partner Tim Donovan who was the first Sinas Dramis attorney to receive the Respected Advocate Award in 2004.
The Respected Advocate Awards are bestowed each year by both the Michigan Association for Justice and the Michigan Defense Trial Counsel. The designation is given to two attorneys, each from the plaintiffs' bar and defense bar, who have a "history of success in civil litigation matters, unfailing adherence to the highest standards of ethics and candor in dealing with the court and with counsel, and the respect and admiration of counsel on the opposite side of the bar."
George Sinas has dedicated his legal career to providing the highest quality legal representation in personal injury matters, particularly those involving car accidents, motorcycle accidents, and semi-truck accidents. As an attorney who has extensive knowledge of the Michigan No-Fault law and who has made it his mission to ensure that the people of this state, especially auto accident survivors, have access to the care and benefits to which they are entitled under the law.
In addition to receiving the Respected Advocate Award, George was also included in the 2016 edition of Best Lawyers of America and named a 2015 Michigan Super Lawyer. Over the past two years, he has also been named "Lawyer of the Year" by Michigan Lawyers Weekly, "Champion of Justice" by the Michigan Association for Justice, and has received the Protection and Preservation Award from the Coalition Protecting Auto No-Fault (CPAN) as well as the Catalina Andres Humanitarian Award from the ACS Foundation.
Please join us in congratulating George on this well-deserved award!