Delivery Person Injuries – Dangerous Properties, Dog Bites, and No-Fault Benefits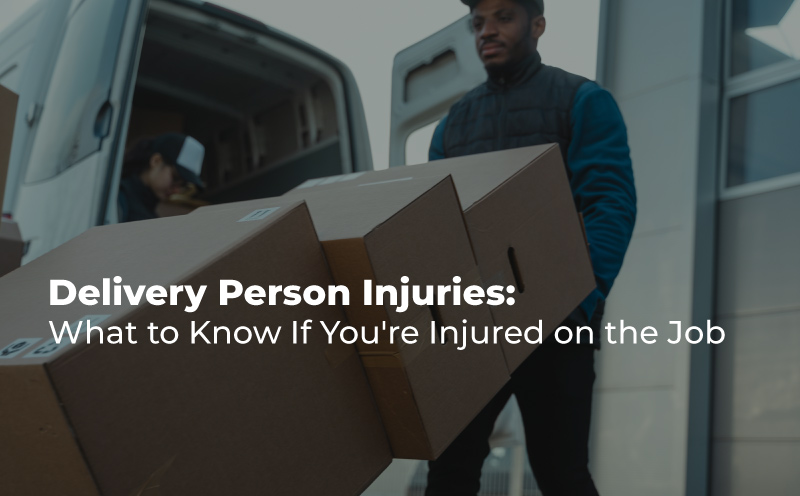 More than ever, Americans are doing much of their shopping online. Even prior to the Covid-19 pandemic, delivery jobs had become one of the fastest-growing jobs for Americans. Now over the past year, with more people across the country staying home and opting to avoid traditional brick and mortar retail establishments, this trend has only further accelerated. But now, with Americans receiving more and more deliveries right to their front doors, delivery person injuries are also on the rise. Further compounding the issue, Michigan's cold winter months create slippery conditions. Snow and ice contribute to the ever-present dangers for delivery people forced to encounter these conditions on a daily basis. These risks raise the question: what happens if a postal worker or delivery person is injured on someone's property while delivering making their delivery?
Delivery Person Workers' Compensation Benefits
Most people engaged in delivering packages are doing so on behalf of an employer, such as FedEx, UPS, DHL, or Amazon. In such cases, when a delivery person is injured on the job while delivering packages, the employee will be entitled to file a workers' compensation claim. Workers' compensation insurance protects employers and employees in the event of a work-related accident.
Importantly, in order to file a workers' compensation claim for an injury occurring during delivery, a person does not have to prove that the homeowner or anyone else did anything wrong to cause the injury. The only qualifier is that the person is an employee who was injured while working. Workers' compensation benefits include medical expenses and lost wages and are governed by the Michigan Workers' Compensation Disability Act.
As for employees of the United States Postal Service, while postal workers do not technically receive traditional workers' compensation benefits, they are entitled to receive comparable benefits through the Federal Employees' Compensation Act (FECA).
Claims Against Property Owners for Delivery Person Injuries
However, if a delivery person's injury is the result of a dangerous condition on the property, they may also have a premises liability claim (commonly called a "slip and fall" case)  against the property owner for their injuries.
Michigan law characterizes delivery people as "invitees." Under the law, invitees are owed the highest duty of care by property holders. In general, a person in control of a property is required to (1) keep the premises in a reasonably safe condition for invitees; (2) warn of any dangers they know of, should know of, or created themselves; and (3) inspect the premises to discover any potentially dangerous conditions. As a result, if a delivery person is injured due to a property owner's failure to keep their premises in safe condition, the property owner can be held liable for this negligence.
More on premises liability claims here.
Delivery Person and Dog Bite Injuries
Sometimes the dangers on a person's property can come with teeth.  Dogs have long been considered the postal worker's number one enemy, with over 5,800 USPS employees being involved in dog attacks annually. While similar statistics are not available for those engaged in delivering for private carriers, vicious dogs pose a threat to any person delivering packages and mail.
Michigan law holds the owner of a dog or other animal strictly liable for the harm caused by that animal. This means that if you are bitten by an animal while delivering packages to a home, the owner of that animal will be responsible for your injuries. Furthermore, even if a homeowner is not the owner of the pet, they can be held liable if they knew or had reason to know of the animal's propensity to bite. Typically, this requires knowledge of the animal previously by someone or being aggressive towards humans.
More on dog bite injuries and claims here.
Auto No-Fault Benefits for Injuries Sustained While Unloading Delivery Vehicles
Another potential wrinkle in the law that may come into play when a person is injured while delivering packages is the interplay of the Michigan No-Fault Act. Generally, Michigan's no-fault law affords benefits for those who are injured while using a motor vehicle, including entering, exiting, or loading or unloading said vehicle. These benefits can include medical expenses, lost wages, and replacement services. However, in the context of employees injured while on the job, these benefits may be limited or unavailable to employees who are also eligible to receive workers' compensation benefits. Because these claims can be very nuanced and will hinge on the facts surrounding the delivery person's injury, it is advised that delivery people injured while unloading their vehicles seek the advice of an attorney skilled in the intricacies of Michigan's no-fault law.