Letting A Dog On Your Lap While Driving May Soon Be Illegal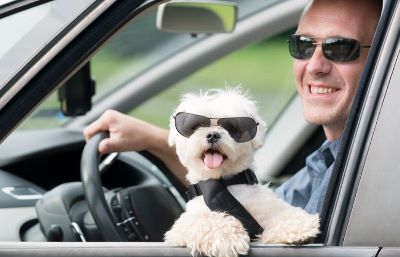 We've all seen it (and have possibly been guilty of it ourselves): letting a dog sit on our lap while driving. Problem is, having a dog on your lap while driving is a distraction that takes your eyes off the road and may cause a Michigan car accident.
This is why House Bill 5277 has been introduced in the Legislature. The measure would prohibit dogs on the laps of Michigan drivers. The proposal is straightforward and says, "An individual shall not operate a motor vehicle while a dog is sitting on his or her lap." If the bill ultimately passes, this language would be added to the Michigan Vehicle Code.
Having A Dog On Your Lap While Driving Is Dangerous
According to the bill's sponsors, the proposal is needed for one main reason: a dog on your lap while driving takes your attention off the roadway.
When a dog is on your lap while driving (or anywhere in a vehicle), the animal's behavior — such as jumping from back seat to front seat, and vice versa — is a distraction, just like using a cell phone while driving. Also, depending on the animal's size, having a dog on your lap while driving may restrict the degree to which you can turn the steering wheel, can limit your ability to use the rear-view and side mirrors, and may obstruct your overall ability to see the road.
Under House Bill 5277, allowing a dog on your lap while driving would be a civil infraction with a fine of $100. For subsequent offenses, the fine would be $200. The measure provides an exception when the dog is needed for medical reasons pursuant to the Americans with Disabilities Act.
Is It Already Illegal To Have A Dog On Your Lap While Driving?
Currently, it's unclear whether Michigan drivers can operate their vehicles with a dog on their lap, according to the Michigan State Police.
Existing law prohibits the carrying of a live animal "in or upon a vehicle without providing a secure space, rack, car, crate, or cage, in which livestock may stand, and in which all other animals may stand, turn around, and lie down during transportation." However, the term "secure space" is not defined in statute and has not been interpreted in a binding court decision. This means local prosecutors are left to determine whether there has been a violation of the law.
Another reason to not allow dogs to sit on your lap while driving or roam around in a moving vehicle? Just like humans, dogs can be injured if you're in a Michigan auto accident. If you hit a bump or are in a crash, unrestrained dogs are likely to get hurt or stuck underneath the seats. In fact, dogs should be secured in a moving vehicle. This can be accomplished by attaching a special harness to the vehicle's seat belt, using a special seat belt developed for dogs, placing the dog in a basket carrier or securing the dog's crate with the vehicle's seat belt.
House Bill 5277 currently sits in the Committee on Transportation and Infrastructure. Stay with the Sinas Dramis Law Firm Blog for updates on the proposal.
If you've been injured in a motor vehicle collision, our Michigan personal injury attorneys are available to answer your questions. Contact our Lansing car accident lawyers or Grand Rapids auto accident attorneys today for a free initial consultation.