Sinas Dramis Honored For Contribution to Legal Assistance Center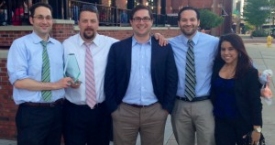 Grand Rapids Personal Injury Firm Was Recognized as the "First Friend" of the Grand Rapids Legal Assistance Center
Recently, Sinas Dramis Law Firm, one of Michigan's oldest personal injury firms,  was honored for its support of one Grand Rapids' great institutions: the Legal Assistance Center. Last month, the Legal Assistance Center (LAC) held its first annual Summer Social for its donors at Founders Brewing Taproom in Grand Rapids. At that event, the LAC honored its law firm "friends," i.e., those firms that donate at least $1,000 each year to the organization. The Sinas Dramis Law Firm was specially recognized as the "first friend" of the LAC, meaning that it was the first law firm to commit to that level of support to the LAC.
The LAC is a non-profit organization that operates out of the Kent County Courthouse. Its mission is to assist West Michigan citizens in representing themselves in various civil cases in Kent County District and Circuit Courts. The LAC provides documents and other information to help people navigate family law, landlord-tenant law, and other civil cases. The LAC was started after members of the Grand Rapids legal community recognized the need to assist people who could not afford to pay an attorney in navigating the legal system. The LAC serves a staggering 18,000 citizens every year, oftentimes more than 100 each day.
"We are so proud to support the LAC," said Grand Rapids personal injury attorney Tom Sinas. "The LAC embodies the principle upon which my grandfather founded this law firm: access to justice for everyone," Sinas said. "As our Grand Rapids personal injury practice continues to grow, we will maintain our commitment to great civic organizations like the LAC."
Sinas Dramis was honored by the LAC alongside other well-recognized Grand Rapids law firms, including the Miller Johnson, Gruel Mills, and Smith Haughey firms. For more information about the LAC, visit www.legalassistancecenter.org. The Sinas Dramis Law Firm, founded in 1951, specializes in personal injury, and auto no-fault, with offices in Lansing and Grand Rapids.