Grand Rapids Personal Injury Attorneys
The Grand Rapids personal injury attorneys at the Sinas Dramis Law Firm are dedicated to helping accident victims get the compensation they deserve. And our lawyers have the client results to show for it.
To carry on the Sinas Dramis tradition of legal excellence and to better serve clients from Illinois to northwest Michigan, a downtown Grand Rapids office opened in 2013. Since our West Michigan location was launched, our lawyers have been fighting diligently for the rights of injured persons, getting them justice under the law so they can focus on their recovery.
Grand Rapids Personal Injury Law Firm: Experience You Can Trust
Our personal injury attorneys handle all types of claims, including auto accidents, motorcycle collisions, bicycle crashes and semi-truck accidents.
Backed by a dedicated staff, years of experience and a thorough understanding of Michigan's complex auto no-fault insurance system, our West Michigan personal injury lawyers are prepared to fight for you. Here's a little about them.
Grand Rapids personal injury attorney Tom Sinas leads the office. He primarily focuses his practice on auto no-fault benefits, representing persons seriously injured in motor vehicle accidents. Tom has been recognized by the Brain Injury Association of Michigan for his work with victims of traumatic brain injury and has been named an "Up & Coming Lawyer" by Michigan Lawyers Weekly. Tom spearheaded the Grand Rapids Lids for Kids program, an annual event where free bike helmets are distributed to children. Tom also co-hosts a weekly television program called "Know the Law" on West Michigan FOX 17, in an effort to help educate the public about legal issues that affect their everyday lives.
Attorney Adrian Copeland has been advocating on behalf of injured individuals for more than a decade. Adrian concentrates her practice on auto no-fault liability, but also handles other types of personal injury matters, including claims involving dog bite injuries and premises liability.
Have you been in a car accident?
Sinas Dramis understands the hardships that can arise after a car accident. We also know that anyone suffering an injury in a crash is subject to the auto no-fault law. If you've been hurt in a collision, contact our Grand Rapids attorneys for a free case review.
Have you been in a semi-truck accident?
Large trucks on the roads can present numerous dangers to motorists. Our Grand Rapids semi-truck accident attorneys have expertly handled trucking cases in Grand Rapids and throughout West Michigan and beyond, getting injured persons the compensation and insurance benefits they deserve.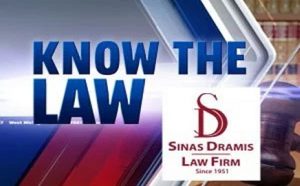 Watch Us On Fox 17
Helping People Know the Law
Sinas Dramis partners with FOX 17 for a television segment called "Know the Law," to help citizens better understand their rights.
Personal injury attorney in Grand Rapids, Tom Sinas, discusses topics like auto insurance, bicycle laws, distracted driving, motorcycle laws, workplace injuries … and much more.
If you've been injured and need legal assistance, we are here to help. Contact our Grand Rapids personal injury lawyers today for a free initial consultation. Or call 866.758.0031