Grand Rapids Personal Injury Lawyer
A qualified and skilled Grand Rapids personal injury lawyer knows the ins and outs of West Michigan and will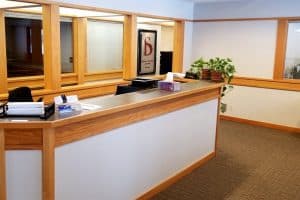 help victims obtain the compensation they deserve. Sinas Dramis Law Firm is committed to serving our community, pursuing justice for the injured and wronged, and are backed by impressive results and satisfied client testimonials.
Managed by partner and Grand Rapids car accident lawyer, Tom Sinas, Sinas Dramis opened its Grand Rapids location in 2013 to better serve clients from Illinois to northwest Michigan. Our attorneys handle all types of claims, including auto accidents, motorcycle collisions, bicycle crashes, semi-truck accidents, and many other personal injury cases.
Speak with a Grand Rapids Personal Injury Lawyer Today
We are proud to offer clients a free initial personal injury case review. You can easily find us at 310 Fulton Street East, Grand Rapids, MI 49503 or call to speak with one of our attorneys at (616) 301-3333.
Grand Rapids Personal Injury Law Firm – Experienced, Diligent, Compassionate
Backed by a dedicated staff, years of experience, and a superior understanding of Michigan's complex auto no-fault insurance system, our West Michigan personal injury lawyers are prepared to fight for you. Here's a little about them.
Tom Sinas: As a Grand Rapids personal injury lawyer, Tom primarily focuses his practice on representing persons seriously injured in motor vehicle accidents in West Michigan. He has been recognized by the Brain Injury Association of Michigan for his work with victims of traumatic brain injury and has been named an "Up & Coming Lawyer" by Michigan Lawyers Weekly. Tom spearheaded the Grand Rapids Lids for Kids program, an annual bike helmet giveaway and safety event. Tom also co-hosts
Brian Molde: Brian returned to Michigan after graduating from the University of Tennessee College of Law, and dedicates his profession to the communities and residents of Grand Rapids and beyond. As such, his practice primarily focuses on litigating third-party liability claims arising from motor vehicle accidents in Grand Rapids, across West Michigan, and throughout the state. He joined Sinas Dramis Law Firm in 2018 and volunteers his time as a Board Member at Kent County's Legal Assistance Center.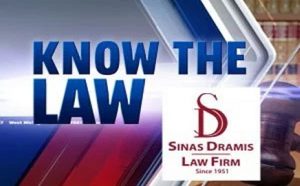 Catch Us On Fox 17
Helping People Know the Law
Intended to help people understand their legal rights, Sinas Dramis co-hosts "Know the Law" with Fox 17.
Personal injury attorney in Grand Rapids, Tom Sinas, discusses topics like auto insurance, bicycle laws, distracted driving, motorcycle laws, workplace injuries … and much more.
Have you been in an accident involving a semi-truck?
Tom and Brian have years of experience helping victims of tractor-trailer accidents obtain fair compensation for their injuries. These types of claims can be complex and difficult to navigate alone. You need a trusted advocate on your side.
What Motorcyclists Should Know
With its miles and miles of beautiful national lakeshore, West Michigan is a motorcyclist's dream. But when things don't go as planned and you're in a collision and injured, an experienced Grand Rapids motorcycle accident attorney will help you pick up the pieces and get back on the road.
Bicycling in West Michigan
As an up-and-coming bicycling community, Grand Rapids draws bicyclists from all over the state and Midwest. Our Michigan bicycle accident attorneys are here to help when you've been injured as a result of an accident.