Thomas G. Sinas
Tom Sinas is a trial lawyer who dedicates his career to representing injured individuals in West Michigan and serving the communities around Grand Rapids and beyond. He is a partner at the law firm and manages its downtown Grand Rapids office. He focuses his practice on personal injury, auto negligence, auto no-fault litigation, and fighting for the rights of those injured in Grand Rapids and West Michigan car accidents.
Tom has tried to verdict civil and criminal cases in several Midwestern states. He has also lectured and authored numerous articles on trial practice and substantive law.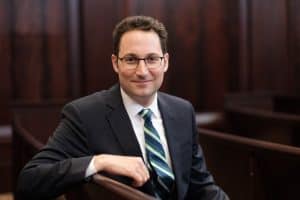 Tom earned both a Bachelor of Arts and Bachelor of Fine Arts from the University of Michigan, graduating with highest honors and high distinction. He then obtained his law degree, magna cum laude, from the University of Minnesota Law School.
After law school, Tom practiced with a national law firm in Minneapolis, where he represented catastrophically injured individuals and their families. He was then selected to join Minnesota's premier state prosecution office on a special assignment to prosecute complex financial crimes.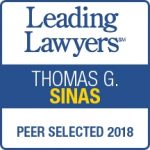 Tom and his family returned to Michigan in 2013 to continue the proud tradition of the Sinas Dramis Law Firm, which was founded by his grandfather in 1951. In addition to practicing law at the firm's West Michigan location, Tom acts as Secretary to the Board of Directors at the Brain Injury Association of Michigan and holds leadership positions at the Grand Rapids Bar Association and the Kent County Legal Assistance Center.
As part of his commitment to helping Michigan residents understand their legal rights, Tom partners with West Michigan FOX 17 to present a weekly television segment called "Know the Law."  He discusses practical topics, such as auto no-fault insurance coverage, workplace injuries, bicycle accidents, distracted driving, just to name a few.
Tom is admitted to practice in Michigan and Minnesota. Tom, his wife and their children live in the Grand Rapids historic Heritage Hill neighborhood.
Practice Areas
Auto accidents, bicycle accidents, pedestrian accidents, motorcycle accidents, semi-truck accidents, personal injury, wrongful death
Professional Associations
Brain Injury Association of Michigan, Board of Directors -2015 – present
Grand Rapids Bar Association, Trustee – 2015-2018
Legal Assistance Center, Board of Trustees – 2015-2018
Justice Foundation of West Michigan, Committee Member – 2014-2018
Michigan Association for Justice
Coalition Protecting Auto No-Fault (CPAN) – Associate General Counsel
Grand Rapids Bar Association
State Bar of Michigan
Publications
Michigan's Quirky Expert Deposition Rules, Grand Rapids Lawyer – 2018
Notice of a No-Fault Claim: Michigan Supreme Court Chooses Simplicity over Complexity, Grand Rapids Lawyer – 2018
New Stirrings in Auto Threshold Law, Grand Rapids Lawyer – 2018
Michigan Supreme Court: Insurers Have No Absolute Right to Rescission, Grand Rapids Lawyer – 2018
Res Ipsa and Spoliation: A Dangerous Combination, Grand Rapids Lawyer – 2018
Written Notice and Statutes of Limitations, Michigan Civil Procedure, Second Edition – 2018
Excess Economic Loss in Auto Liability Cases: Remembering the Fundamentals, Grand Rapids Lawyer – 2017
Covenant Medical Center v. State Farm: A Sea Change in Michigan's Auto No-Fault System, Grand Rapids Lawyer – 2017
A Midwestern Traveler's Thoughts on Jury Selection Logistics, Grand Rapids Lawyer – 2017
Understanding the Whole Injury, Innovative Health Magazine – 2017
Yes, there is a Threshold–And It's Working, Grand Rapids Lawyer – 2017
Adverse Medical Examinations in Personal Injury Cases: Following the Rules, Grand Rapids Lawyer – 2017
Kalamazoo shootings should put brakes on Uber's legislative agenda in Lansing, Bridge Magazine – 2016
A New Lifeboat for Medical Providers Adrift in the No-Fault Sea, Grand Rapids Lawyer – 2016
A New Frontier in the Wild West of ERISA Litigation, Grand Rapids Lawyer – 2016
A Stitch in Time: Supreme Court Softens the One-Year Notice Rule in PIP Cases, Grand Rapids Lawyer – 2016
You Are What You Plead: Michigan Supreme Court Clarifies District Courts' Subject Matter Jurisdiction, Grand Rapids Lawyer – 2016
Reasonable Proof: It's Simpler than You Think, Grand Rapids Lawyer – 2016
Abuse of no-fault law happens on both sides, hurts victims, Bridge Magazine – 2015
Auto no-fault reform is anti-jobs, anti-free market, anti-Michigan, Grand Rapids Business Journal – 2015
There's One Important Question Left Out of Grand Rapids' Airbnb Discussion, The Grand Rapids Press/MLive – 2014
Uber Raises Public Safety Concerns, Lansing State Journal – 2014
"Texts, Lies, and Identity Theft: Prosecuting Complex Financial Fraud with Minnesota's Racketeering Statute", William Mitchel Law Review – 2013
Professionalism in Medicine: A Case-Based Guide for Medical Students (book), contributing author – 2010
Damages Questions on the Special Verdict Form, Journal of Minnesota Association for Justice – 2010
Using the Internet Archive to Investigate and Strengthen Your Case, Journal of Minnesota Association for Justice – 2008
Speaking Engagements
"Development and Trial of a Negligent Entrustment Case," Michigan Association for Justice No-Fault Institute (2018)

"Covenant: One Year Later," Michigan Adjusters Association (2018)
"Escape from Litigation Island," Coalition Protecting Auto No-Fault Annual Meeting (2018)
"The Ongoing Impact of the Supreme Court's decision in Admire v Auto-Owners," Michigan Brain Injury Provider Council 3rd Annual Auto No-Fault Boot Camp (2018)
"Workshop on Provider Litigation in the Post-Covenant World,"  Michigan Brain Injury Provider Council 3rd Annual Auto No-Fault Boot Camp (2018)
"Third-Party Threshold Litigation," Institute for Continuing Education 2018 No-Fault Institute.
"How Does Covenant Affect Existing Provider Cases?" Michigan Brain Injury Provider Council 2nd Annual Auto No-Fault Boot Camp (2017)
"Provider v. Patient Lawsuits: What are the Rules?" Michigan Brain Injury Provider Council 2nd Annual Auto No-Fault Boot Camp (2017)
"Third-Party Threshold Litigation," Institute for Continuing Litigation 4th Annual No-Fault Summit (2017)
"The Enemy Within: Third-Party Mini Update," Michigan Association for Justice Annual Meeting (2016)
"Multiple Threats: Auto No-Fault Law Update," 31st Annual Western Michigan Brain Injury Network Symposium (2016)
"Michigan Auto No-Fault for Medical Professionals," Mary Free Bed Rehabilitation Hospital Spinal Cord Symposium (2016)
"Intersection: The Sharing Economy and the Law," NALS Membership Meeting (2015)
"Overview of the Michigan No-Fault Law," MANS Meeting 2015: Navigating a Changing Neurosurgical Landscape (2015)
"Auto No-Fault Update," CPAN Town Hall (2015)
"Auto Law 101," CPAN Advocacy Training Workshop (2015)
"Preparing the Medical Professional for a Deposition," Brain Injury Association of Michigan 2015 Legal Conference (2015)
"Rules of the Road: Michigan Auto Law," People's Law School (2014)
"Admire v. Auto Owners Ins. Co.," Michigan Supreme Court Judicial Conference (2014)
"The Admire Problem," Michigan Association for Justice (2014)
"Auto Law 101 and Pending No-Fault Legislation," Mary Free Bed Patient Advocate Advisory Council (2014)
"A Legal Analysis of the Admire Problem," CPAN Admire III Workshop (2014)
"Auto Law 101," "Let Our Voices be Heard" CPAN workshop (2014)
"Criminal Law," People's Law School (2013)
"Racketeering Forfeiture," Financial Crime Training (2013)
"Beyond Admire: Recent Court of Appeals Decisions Regarding the Everyday Living Needs of Catastrophically Injured," CPAN: Admire II Workshop (2013)
"Mortgage and Real Estate Fraud," Minnesota Sheriff's Association/Law Enforcement Training Service (2012)
"To Answer or Not to Answer: Legal Arguments for and Against Requiring the Jury to Answer the Damage Question," Minnesota Association for Justice Annual Convention (2009)
"Going Back in Time: Using the Internet Archive," American Association for Justice Mid-Year Convention (2008)
Awards & Recognition
Michigan Super Lawyers "Rising Star" – 2015 – 2018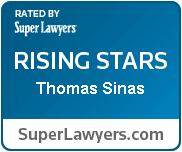 Leading Lawyers – 2018 Peer Selected – 2018
"Up & Coming Lawyer" – Michigan Lawyers Weekly – 2016
"Prevention Award" – Brain Injury Association of Michigan – 2016
AVVO Clients' Choice Award – 2014-2016
Excellence Award, American Association for Justice, New Lawyers Division – 2008
Best Brief Award, University of Minnesota Law School – 2004
Education
B.A., University of Michigan – Economics, 2001
B.F.A, University of Michigan – Jazz Studies, 2001
J.D., University of Minnesota Law School, 2006
Admissions
Michigan, 2013
Minnesota, 2006
Connect with Tom Sinas

 tomsinas@sinasdramis.com