Lansing, Grand Rapids Personal Injury Lawyers Discuss Michigan Car Accident Laws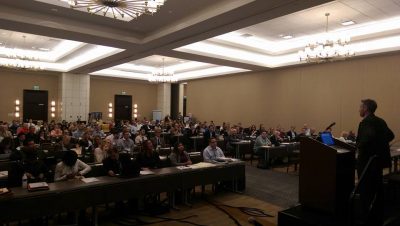 Three Sinas Dramis Law Firm attorneys recently spoke about Michigan car accident injuries and auto no-fault law at the 13th Annual No-Fault Institute in Detroit.
Personal injury attorneys from across the state gathered at the two-day event, and were advised by presenters to "stay focused" because "things are getting blurry."
The conference, presented each year by the Michigan Association for Justice, was coordinated by Lansing personal injury attorney George Sinas and Farmington Hills lawyer Wayne Miller. Both are considered leading experts on auto no-fault law.
In addition to planning the event, George provided attendees an update on "tort threshold" cases, a complicated area of personal injury law that is constantly evolving. Tort cases are different than cases involving an injured person who's seeking no-fault benefits from his or her own auto insurer. Rather, tort cases involve claims for non-economic damages brought against the at-fault driver. To pursue a tort case, the car accident victim must satisfy Michigan's "threshold injury" requirement, which means it must be determined whether the person suffered a "serious impairment of body function" or "permanent serious disfigurement."
Two other Sinas Dramis personal injury attorneys also shared their knowledge and expertise with conference attendees:
Planning for next year's No-Fault Institute is already underway. We hope to see you there!
If you have been injured in a car crash and need legal help, contact our Michigan auto accident attorneys for a free consultation. We're here to fight for your rights and get you the results you deserve.