What to Do After a Car Accident in Michigan
If you're injured in a Michigan car accident, it's important to act quickly in order to protect your rights to: 1) auto no-fault benefits and 2) a potential liability claim against the at-fault driver. In addition to making sure your rights to legal action are preserved, injuries resulting from auto accidents are often far-reaching. You may not initially comprehend the full extent of your injuries, so protecting your rights early-on is critical. If you're wondering what to do after a car accident, reading the following information is the first thing you should do.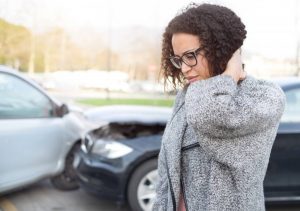 The following steps will help ensure your well-being as well as the protection of your legal rights following a Michigan car accident:
Your first priority is your health and wellbeing. If anyone in your vehicle needs medical attention, a police officer can assist with getting an ambulance. Oftentimes, injuries from an automobile accident may not present symptoms immediately. These types of injuries include traumatic brain injury (TBI) and neck and spine injuries. If in doubt, seek medical attention right away.
Move over to safety. If your car is still operational and you can do so, navigate to a safe place off the shoulder of the road. Do not leave the scene of the accident.
Document and photograph the site. If you're physically able to, collect as much information as possible. This may include photographs of the vehicles involved, your injuries, or videos of the scene. Furthermore, be sure to obtain insurance and personal information of the other driver.
Order your police report. At the time of the accident, you should have received information regarding which police department responded to your accident. Afterward, you will then contact that department for the official police report.
Contact a skilled Michigan auto accident attorney to begin a thorough investigation of the incident right away. As quickly as possible, arrange for a car accident attorney in Michigan to investigate your crash. As part of the investigation, your lawyer will need a copy of your accident report, so be sure to order your accident report as soon as possible. Your lawyer's investigation should include: interviewing all witnesses, photographing the accident scene and all vehicles involved in the crash, taking measurements at the scene, collecting physical evidence, and interviewing the police.
Do not speak with investigators or adjusters representing others involved in the accident or discuss the potential of settling or specifics about your accident. Also, do not sign any medical authorizations from the opposing party. Consult with your attorney first. The insurance company for the at-fault driver will conduct an investigation soon after the accident. One of the first things this investigator will typically do is contact the victim (you) and request that the victim give a written or recorded statement about the collision. DO NOT give any such statements.

Do not

engage in settlement negotiations without speaking with an experienced car accident lawyer. Many times the insurance company representing the driver who's at fault will approach an auto accident victim and attempt to settle a potential lawsuit against the negligent driver in exchange for a release of liability. If you're injured in a car accident, DO NOT enter into any settlement negotiations without first consulting a Michigan personal injury lawyer. The other driver's auto insurance will likely not offer what your potential case is worth in these settlement discussions. Auto negligence cases are complex claims and handling them requires expertise and experience. It's best to consult with skilled attorneys before any discussion of settling the matter.
If you or a loved one are injured and wondering what to do after a car accident, call today for a free initial case evaluation at 866.758.0031.