Michigan Court Rules on Youth Sports Concussion Liability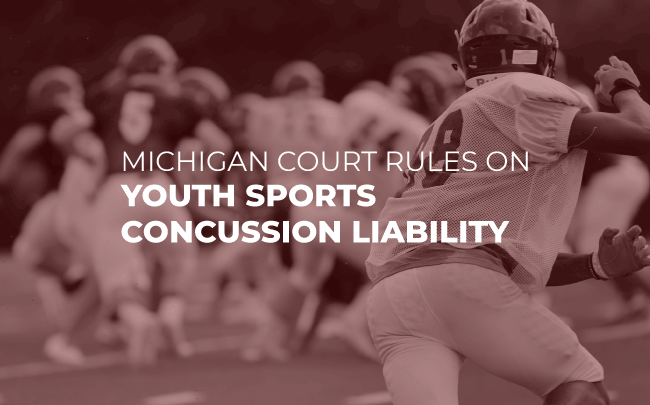 A recent Michigan Court of Appeals ruling represents a major victory regarding the rights of youth athletes throughout Michigan. In a unanimous ruling in the case of  Randall v MHSAA, the Michigan Court of Appeals held that youth sports leagues that violate Michigan's Youth Concussion Protection Statute by failing to take adequate measures in response to a suspected concussion can be subject to civil liability. This development in youth sports concussion liability is a big win for Michigan kids, providing strong protection against negligence.
Youth Sports Concussion Awareness Grows
Over the past several decades, American athletes and fans alike have become more aware of the seriousness of sports concussions. Increased research on sports concussions and their association with the dangerous disease known as chronic traumatic encephalopathy (CTE) has caused the sporting world to view head injuries in a much more serious light than they had been treated previously. While many people have come to view this problem specifically in the context of professional football, these dangers can often be even further exacerbated in youth concussion injuries. Due to brain development, young athletes are more vulnerable to the potential for concussions. In addition, youth sports organizations often lack the extensive knowledge and resources available in comparison to professional leagues. Because of these complex issues in youth sports, young athletes are at an even greater risk of developing chronic traumatic encephalopathy and, therefore, need better protections in place.
Michigan Courts Pass Youth Concussion Protection Statute
In response to this growing concern for the health and safety of youth athletes, the Michigan Legislature passed PA 342 in 2012. This Act, also known as the Youth Concussion Protection Statute, outlines criteria for youth sports organizations and their members to evaluate for possible concussions in young athletes. Additionally, Public Act 342 provides guidance regarding the measures a sporting organization must take in response to a suspected concussion. Specifically, the law requires that any youth athlete suspected of sustaining a concussion must be removed from play by a coach, employee, or volunteer of the youth sports league. Further, any youth athlete removed from play as a result of a suspecting concussion cannot return until they have received a medical evaluation by an appropriate medical professional. Upon successful evaluation, the youth athlete must then obtain a written clearance from the evaluating medical professional stating that he or she may return to play.
Randall v MHSAA
In this most recent ruling, the Michigan Court of Appeals found that any youth sports league failing to abide by the Youth Concussion Protection Statute can be subject to civil liability. In the case of Randall v MHSAA, the plaintiff, Samuel Randall, was a high school hockey player who allegedly sustained a concussion during a hockey game. However, Randall was not removed from play, as is required under PA 342. According to Randall, he was involved in a collision while playing goalie during a high school hockey game. While reports differ regarding the collision, Randall and two witnesses claim he was unconscious for approximately four minutes. Following the collision, the high school athletic trainer examined Randall, who reported a headache at the time. The athletic trainer's report indicated that Randall's headache subsided as their conversation and examination went on. The trainer then asked Randall if he felt he was able to stay in the game. Randall reportedly told the trainer her believe he was able to continue playing,
After remaining in the game, Randall allegedly began feeling dizzy and was having difficulty remaining on his feet in goal.  Randall claimed he looked to his team's bench and shook his head in an effort to alert his coach that he was not feeling well. Shortly thereafter, Randall was involved in another collision. In this second collision, he sustained another blow to his head from the knee of an opposing player. While Randall did not lose consciousness this time, his father promptly removed him from the game. After taking his son off the ice, Randall's father reported that Randall had difficulty walking to the locker room, complained of a headache, and reportedly said he "didn't feel right."
Following this incident, Randall filed suit against Michigan High School Athletic Association and the schools and coaches involved. Randall and his legal team alleged that the failure to abide by Michigan's Youth Concussions Statute caused him further harm. In response, the defendants argued that the concussion statute did not provide Randall with the right to sue the defendants for any violations of the concussion safety law. The defendants also alleged that, since the trainer who checked Randall following the first collision was a licensed medical professional, any claim associated with the trainer's conduct must meet Michigan's heightened standards for medical malpractice.
Youth Sports Concussion Liability
On appeal, the Michigan Court of Appeals held in a unanimous ruling that youth athletes injured as a result of a youth sports league's failure to follow proper concussion protocol under the statute can bring claims for damages against the leagues and its members. The Court of Appeals reasoned that the concussion protection law's design aims to reduce the risk of concussions in youth sports specifically. Additionally, youth athletes are within the specific class of individuals the concussion protection law seeks to protect. Finally, the Court of Appeals did not agree with the defendants' second argument. The Court ruled that claims regarding the sports medicine doctor who evaluated Randall after his first collision did not need to meet Michigan's medical malpractice standards. According to the Court, Randall did not have to follow the procedures for bringing a medical malpractice suit, which differs from the procedures for bringing a liability suit in Michigan.
Major Win for Michigan's Young Athletes
Ultimately, the Court of Appeals sent the Randall case back to the trial court for further proceedings. While the trial courts will eventually have to provide resolution in the case of Randall, the Appellate holding is a major win for Michigan's young athletes. By holding that youth sports organizations can be subject to civil liability for failing to follow the youth concussion statute, the Court of Appeals has provided a way of holding youth sports leagues and coaches accountable for failing to follow these requirements. Hopefully by allowing these young athletes and their parents to seek civil damages will help ensure increased compliance with this important safety statute, creating a safer environment in Michigan's youth sports.
RELATED READING
---
What Parents Should Know – Signing a Liability Waiver or Indemnification Agreement
Women's World Cup Head Collision Illustrates Soccer's Concussion Risk