Women's World Cup Head Collision Illustrates Soccer's Concussion Risk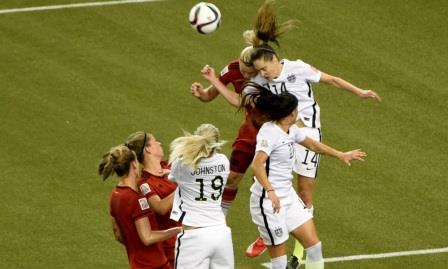 Yesterday's head collision between US and German soccer players shows concussion risk in soccer
If you watched yesterday's Women's World Cup match between the Team USA and Germany, you probably saw the particularly nasty head collision between midfielders Morgan Brian (US) and Alexandra Popp (Germany).
While it's not immediately evident that either player sustained a concussion or other sort of head or brain injury (remember, it can take a few days for symptoms to manifest), many who watched the match cried foul at the amount of time it took before both players were allowed to resume play.
Concussions in Sports not limited to soccer
According to FIFA regulations, whenever there is a suspected concussion (as in this case), a player must be examined by the team doctor; that doctor is the only individual who is permitted to authorize the player to resume playing on the field:
"[W]henever a suspected incident of concussion occurs, the referee will have the ability to stop the game for three minutes, allowing the relevant team doctor to complete an on-pitch assessment and decide if the player has suspected concussion. The referee will only allow the injured party to continue playing with the authorization of the team doctor, who will have the final decision." 
Some have found issue with FIFA's current regulations regarding head injuries and how they played out in yesterday's game. Was three minutes enough time for a proper examination to be made? Why weren't the players immediately substituted? Are team doctors sufficiently neutral to be able to make an informed decision regarding a player's ability to continue after a head injury?
Concern about concussions suffered while playing contact sports is nothing new. Head injuries suffered by NFL players during their careers, and the effects of such injuries, have been brought to the forefront. From professional football players committing suicide to increased risk of CTE, both players, coaches, teams, and spectators alike have been involved in conversations regarding decreasing the risk of brain injury associated with it. The risk associated with other sports such as soccer is also coming to light, especially as it relates to children who play these sports.
Dealing with head injuries and sports in Michigan
In Michigan, we have a Sports Concussion Law that went into effect in 2013, the purpose of which was to protect children who play sports that have an increased risk of brain or head injury.
Among other things, the Michigan Sports Concussion Law provides that both children and their parents receive information regarding the potential for a head injury (i.e., concussion) to occur while playing the chosen sport. In addition to making available educational resources, those who coach, volunteer, and supervise kids playing football or soccer, for example, must be properly trained so they can recognize symptoms of a concussion; kids who have suffered a head injury must be pulled off the field, and may only return with written permission from a health professional stating their fitness to resume play.
As Michigan personal injury attorneys who have helped individuals who have suffered from traumatic brain injuries arising from a number of situations, including car accidents, semi-truck accidents, and motorcycle crashes, we understand the importance of taking the necessary precautions in order to prevent head injuries from taking place. We have helped clients access the medical care they need in order to recover, so they may continue to be productive members of society.
If you or a loved one have suffered a brain injury, contact one of our brain injury lawyers today for a free consultation.