Motorcycle Insurance in Michigan
Michigan is one of the top states for registered motorcycles in the country. If you ride a motorcycle, you know how thrilling the open road can be. However, a crash can happen in the blink of an eye, so making sure you and your bike are properly insured is paramount.
Required Motorcycle Insurance in Michigan
Michigan's Auto No-Fault Law's definition of what constitutes a "motor vehicle" does not include motorcycles.  Therefore, no-fault coverage is not required motorcycle insurance in Michigan.
However, Section 3103(1) of the Michigan Insurance Code makes clear that all motorcyclists must still purchase liability insurance for their motorcycles.  Sometimes referred to as "PLPD coverage," this required insurance provides liability coverage to the motorcyclist if the motorcyclist is at fault and causes bodily injury, death, or property damage to another person. But liability coverage does not provide protection if the motorcyclist is injured in a collision.
A failure to purchase the required liability coverage may impose serious penalties on the motorcyclist, including a misdemeanor criminal conviction, fines, and/or imprisonment. More importantly, a failure to purchase this insurance will disqualify the motorcycle owner from receiving no-fault PIP insurance benefits that may be available under the Michigan No-Fault Law through the no-fault insurer of the motor vehicle involved in the motorcycle crash.  MCL 500.3113(b)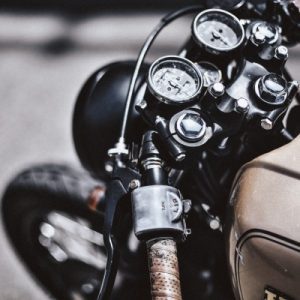 Motorcyclist No-Fault PIP Benefits
Although motorcyclists are not subject to the Michigan no-fault laws and are not required to purchase a no-fault policy, they may be entitled to no-fault benefits if their injury is caused by the operation or use of a "motor vehicle." In certain cases, the motorcyclist's own no-fault insurer (of their own motor vehicle) may be responsible for paying these benefits. However, this compensation is not available to motorcyclists injured in accidents which don't involve a motor vehicle.
Due to certain instances that bar injured motorcyclists from collecting auto no-fault benefit, our motorcycle accident attorneys encourage riders to review and obtain additional motorcycle insurance coverage above and beyond minimum requirements. This better protects them in case of an accident and resulting injuries. This additional coverage is available in several types of insurance plans.
Types of PIP Benefits Available to Injured Motorcyclists
If the motorcyclist was injured in an accident involving a "motor vehicle," the injured motorcyclist is treated the same as any other injured motorist under the Michigan No-Fault Law and is entitled to the same rights and benefits.
Generally, these benefits include the following:
(a) unlimited lifetime coverage for allowable expenses, which the No-Fault statute defines as all reasonable charges for reasonably necessary products, services and accommodations for the injured person's care, recovery, or rehabilitation;
(b) wage loss benefits for a three (3) year period calculated at 85% of gross income, but not to exceed the applicable monthly cap; and
(c) replacement service expenses for a three (3) year period not to exceed $20 a day to reimburse the injured person for reasonably necessary domestic services that others were required to perform for the injured person, or his or her dependents.
Optional Motorcycle Insurance Coverage
Motorcycle PIP coverage is optional motorcyclists can purchase it in increments of $5,000 or more. Such coverage provides for "the payment of first-party medical benefits only." In addition, Michigan law requires insurers to offer such coverage. In short, purchasing this form of recommended motorcycle insurance ensures the payment of medical expenses in the event a motorcyclist is in an accident with an uninsured motor vehicle and do not have their own auto no-fault policy. Further, this optional insurance pays medical expenses in events of motorcycle-only accidents, such as motorcycle-versus-deer collisions and crashes with objects other than a motor vehicle.
Motorcycle Collision Insurance in Michigan
In nearly every motorcycle accident, the motorcycle sustains some physical damage. Unfortunately, under most circumstances, Michigan auto no-fault law does not provide coverage to compensate a motorcyclist for damage to his or her motorcycle. Even if a motor vehicle caused the damage to the motorcycle.
However, if the operator of the motor vehicle which caused damage to the motorcycle lacked the auto no-fault coverage required by Michigan law, that operator may be held personally liable for any damage sustained by the motorcycle in the accident.  MCL 500.3135.
If the motorcycle was "reasonably parked" at the time that it sustained the damage, the motorcycle's owner may make a claim for "property protection insurance benefits" from the insurer of the motor vehicle which caused the damage to the motorcycle. In such a situation, the motorcyclist is entitled to the cost of repair or replacement of the motorcycle, minus any depreciation, but with the addition of any value associated with the loss of use of the motorcycle.  MCL 500.3121 and .3123.
Motorcyclists who are concerned about motorcycle collision insurance should make sure to discuss coverage options with their insurer. In many cases, motorcyclists may be able to purchase collision coverage as an additional option on their insurance plan.
Additional Recommended Motorcycle Insurance Coverages
Additionally, Michigan motorcyclists may wish to further protect themselves by making sure that their own automobile no-fault coverage protection offers them adequate protection in the event that they are injured. Some recommended options include the purchase of a policy which provides for uncoordinated medical and wage loss coverage, ensuring that the residual liability insurance limits are at least $300,000 on the no-fault policy, purchasing uninsured motorist benefits with at least $300,000 of coverage, and purchasing underinsured motorist benefits with at least $300,000 worth of coverage.
If you've been injured in a Michigan motorcycle accident and are confused about who pays for your medical and other expenses, please contact us today at 866.758.0031 or submit an online form.
RELATED TOPICS