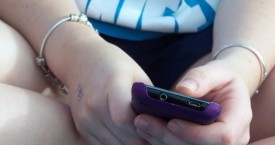 Unfortunately, cyberbullying is nothing new. Many tragic cases have arisen recently from these types of situations. And while every state, including Michigan, has some sort of cyberbullying law on the books, a new Michigan cyberbullying law went into effect at the end of 2018 which makes cyberbullying a crime punishable by jail time. Attorney Bryan Waldman recently appeared on WLNS Legal Edge to explain more.
New Law Defines Cyberbullying in Michigan
The new law accomplishes three things:
Defines cyberbullying
Makes cyberbullying a crime
Sets penalties for those committing this crime
Proponents of this new law wanted a specific definition for cyberbullying, which excludes rudeness and insensitivity. As a result, Michigan law now defines cyberbullying as a post on social media made with the intent of communicating a threat (bodily harm, violence, etc.).
Seriousness of the Crime
Not only did the new Michigan cyberbullying law provide a definition it made it an official crime. Michigan takes cyberbullying very seriously. If found guilty, a person can be charged criminally. After a first offense, those found guilty of cyberbullying may receive up to 90 days of jail time. Second offenses can be up to a year. In extreme cases, cyberbullying may be escalated to the felony level.
For cyberbullying to become a felony crime, it must be the most serious type of offense, which is a pattern of intimidating or harassing conduct that results in a serious injury or death. In cases of injury, the sentence could be up to five years. In instances resulting in death, those found guilty of cyberbullying may face up to ten years in prison.
WLNS Legal Edge – Michigan New Cyberbullying Law from Sinas Dramis Law Firm
Resources for Victims of Cyberbullying
If you are a victim of cyberbullying or are a parent or teacher helping a child or student who is being cyberbullied, there are resources available to help get through this difficult time.
Stop Bullying Now!: A website sponsored by the U.S. Department of Health and Human Services that addresses warning signs of bullying, how to report bullying, and offers a 24-hour hotline at 1-800-273-TALK.
Teaching Tolerance: Bullying: Gives suggested guidelines and activities for teachers to help teach students K-12 about bullies.
Cyberbullying: What Parents Can Do to Protect Their Children: From PACER's National Bullying Prevention Center, this guide helps parents understand what their child might be experiencing and offers prevention tips.