Sinas Dramis Law Firm Expands Its West Michigan Personal Injury Practice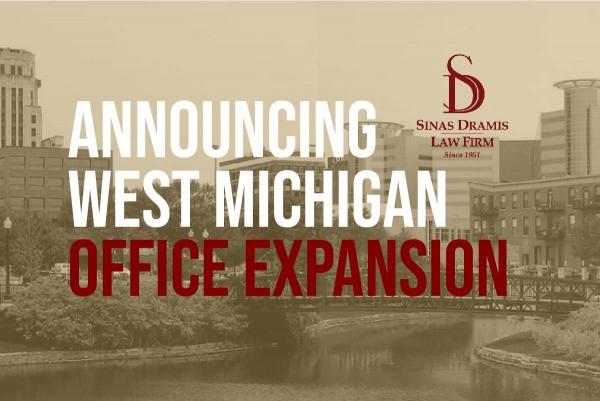 Announcing the Opening of Our New Kalamazoo Office and Expansion of Grand Rapids Office
We are proud to announce that Sinas Dramis Law Firm is expanding our West Michigan personal injury practice to better serve our clients. While our Grand Rapids office relocated and expanded in late 2018, this year began with the highly-anticipated opening of a brand new office in Kalamazoo, Michigan.
While we have served clients across the state for nearly 70 years, we believe these expansion opportunities will better serve West Michigan residents with improved accessibility to superior legal representation in personal injury law.
Highly-experienced attorney, Steve Weston, joined Sinas Dramis Law Firm earlier this year. As a seasoned and well-regarded personal injury attorney, Steve manages our new Kalamazoo office, helping expand the firm's presence in Southwest Michigan. With over thirty years of experience in personal injury representation, he focuses a significant portion of his practice on advocating for survivors of serious burn injuries and traumatic brain injuries (TBIs), as well as other personal injuries.
Our new Kalamazoo office is conveniently located at 4000 Portage St., Suite 110, Kalamazoo, MI 49001.

Grand Rapids Office Expansion and Relocation
Over the last several years, our firm has experienced tremendous growth, particularly in Grand Rapids, and the need for more space became apparent. Moving from a small, one-lawyer office to a spacious suite, we will be able to better serve our growing client base in West Michigan.
"The hallmark of this firm has always been to bring together a group of really good lawyers who are all very skilled in different ways," Sinas Dramis partner and Grand Rapids personal injury attorney, Tom Sinas, recently told Grand Rapids Legal News.  "We pride ourselves on creating an environment where people are allowed to flourish."
With easy access to downtown, the new office is only a half-mile away from our previous office.
We are now located at 310 Fulton Street East, Grand Rapids, MI 49503.
Committed to Superior West Michigan Personal Injury Services
What began in 1951 with a vision to provide superior legal services in Michigan has now flourished into a well-regarded presence across the state. As we continue to grow and expand, we remain committed to serving Michigan residents with exceptional personal injury law services.