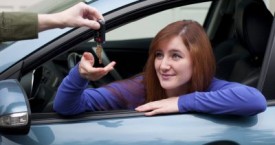 FACT: Distracted driving is involved in 6 of 10 crashes that seriously injure teenagers.
FACT: Parents influence their teen's driving habits more than they think.
One week every October is designated as National Teen Driver Safety Week, helping to raise awareness about the dangers of distracted driving and preventable teenage deaths and injuries on the roads. It also offers parents an excellent opportunity to talk to their teens about safe driving habits.
Studies show that only about 25 percent of parents have talked to their teens about driving safety. This is unfortunate because … believe it or not … parents have more influence than they think over their teenager's driving habits.
The bottom line? Parents need to talk with their teens about distracted driving and highway safety. Parents should:
emphasize that driving is a privilege, not a right.
make sure their teenage driver knows it is illegal for Michigan teens to use cell phones when driving.
make sure their teen driver understands that he or she must not only pay attention to other motorists, but also to their own actions behind the wheel.
In this video, Lansing personal injury attorney Stephen Sinas talks about Michigan's distracted driving laws, particularly for teens, and the dangers of not staying focused on the road while driving.
Driving Distractions

What exactly is distracted driving? It is any activity that diverts attention away from the task of driving. Texting and talking on cell phones are the biggest driving distractions for motorists. In fact, texting while driving is illegal in Michigan for anyone (not just teen drivers).
However, texting and cell phone use are not the only driving distractions that cause car accidents. Other distractions include talking to passengers and flipping through radio stations, as well as eating, grooming and using social media apps (like Snapchat) while driving.
For teens in particular, having other passengers in the car is a major distraction. That's why it's a good idea to tell your teenage driver how many passengers they're allowed to have in the vehicle, and under what circumstances.
If you want to talk to your teen about driving safety, there are many resources available that can help. The National Highway Traffic Safety Administration (NHTSA) and distraction.gov have excellent online information for parents. In addition, the Michigan Office of Highway Safety Planning has a teen safe driving program in high schools called "Strive For a Safer Drive" (S4SD). The program, which promotes communication among teens about safe driving habits, is aimed at reducing the number of fatal traffic accidents among teenagers. Some auto insurance providers also have programs to promote safe teen driving happens, so ask your insurance carrier if it has something available.
Tougher Law In The Works
Michigan's current texting and driving law has been criticized as being too soft, especially because offenders do not get points on their driver's license.
That's why some state legislators are pushing for a new law that's similar to the one already in place for teen drivers — that is, no holding or using any portable electronic devices, including cell phones, for ALL Michigan drivers.
Under the new distracted driving proposal, the penalties would be more severe than the current texting while driving prohibition. It has been recommended that:
1st violation = $250 fine
2nd violation = $500 fine and 1 point on the driver's license
3rd violation = $500 fine and 2 points on the driver's license
At this time, nothing has been formally introduced in the Michigan Legislature. The Sinas Dramis Law Firm will be keeping an eye on the proposal, so be sure to check back here for updates.
If you or your teenage driver has been injured in a car crash, contact our Lansing car accident attorneys and Grand Rapids auto accident lawyers for a free initial consultation.
Comments
comments