Don't Get Hurt Twice – New Publication "Protecting the Injured"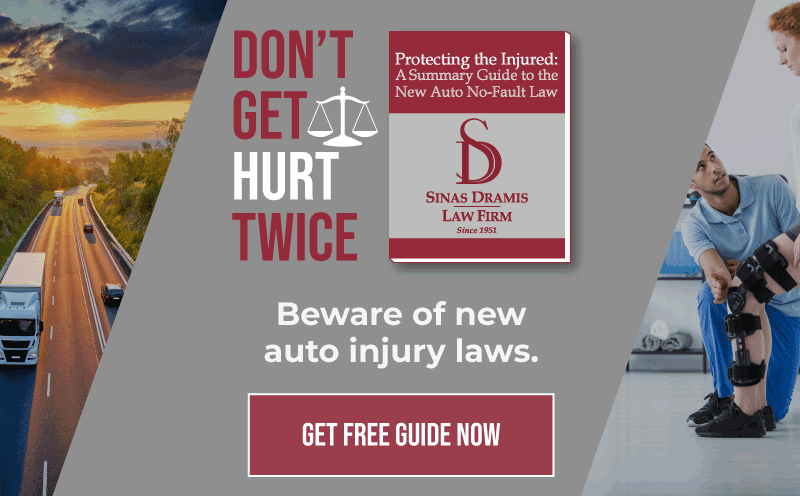 Don't Get Hurt Twice – Beware of New Auto Injury Laws
While Michigan's Auto No-Fault Act is one of the most robust and comprehensive pieces of auto legislation in the country, it's also incredibly complex. And the recent auto no-fault reforms only create further confusion. If you're an injured victim, or one of the many medical or rehabilitation specialists that help patients with injuries from motor vehicle collisions, understanding the unique legal rights outlined by the Michigan Auto No-Fault Act is absolutely paramount. You've already been hurt once. Don't get hurt twice – be sure you understand your legal rights!
As a continuation of our firm's decades-long commitment to educating people injured in car crashes and their medical providers about the laws that significantly affect them, we are pleased to announce the publication of our newest brochure:
  Protecting the Injured: A Summary Guide to the New Auto No-Fault Law
This new informational brochure – authored by George T. Sinas with the assistance of Stephen H. Sinas and Thomas G. Sinas – helps guide those navigating the complex auto no-fault system. "Protecting the Injured" also replaces our former publication, titled "The Rights and Benefits Brochure," which has been widely used throughout Michigan by patients, medical providers, and insurance professionals. We are pleased to provide this brochure completely free of charge and readily available to the public in both digital and print media, which are accessible below.