Michigan Roundabouts – Dangerous Intersections or a Step Toward Safety?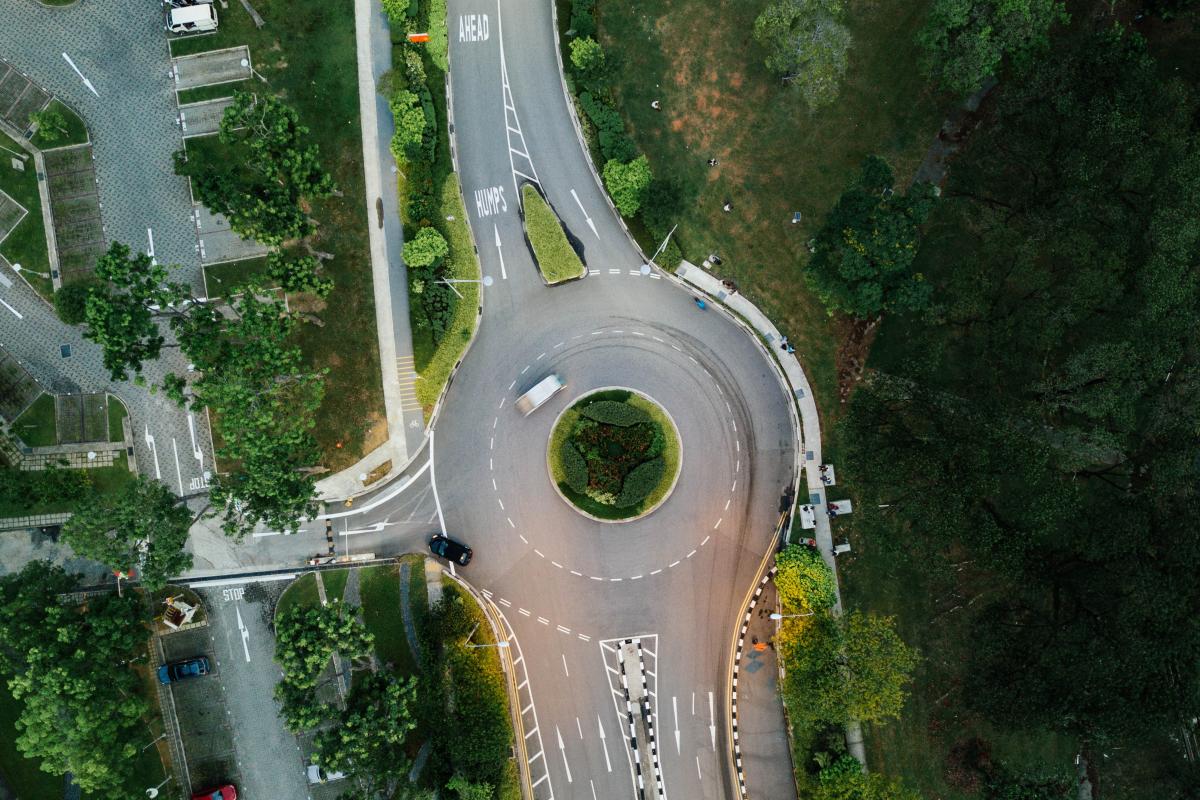 As part of our ongoing Understanding Dangerous Roads campaign, we're turning our focus momentarily to roundabouts and their prevalence at dangerous intersections in Michigan. The first Michigan roundabout – a circular road design that requires entering traffic to yield to vehicles already in the circle traveling counterclockwise – was built by the Oakland County Road Commission in 1999. Today, there are more than 100 roundabouts along our state's roads.
Crash Reduction Rates at Dangerous Intersections
Michigan roundabouts were introduced as a means to improve safety. Recent statistics show they reduce severe accidents at otherwise dangerous intersections previously controlled by a two-way stop by up to 82%. The reduction rate of severe accidents at intersections previously using traffic signals decreased by as much as 78%. Several factors are taken into consideration when the Michigan Department of Transportation (MDOT) is designing a new roundabout:
1. It must slow vehicles to a safe speed in order to alter the course of their direction.
2. Divide crossing the street into different stages for pedestrians.
3. Have wide enough lanes to allow for commercial and large vehicle use.
Moreover, some roundabouts are more cost-effective in the long-run. Without the requirement of electricity to power traditional traffic signals, a single roundabout can save nearly $5,000 per year.
However, despite all the benefits, roundabouts can still be dangerous, largely due to drivers being unfamiliar with navigating them.
In a crash on a dangerous Michigan road? We can help.
Roundabouts on the Rise
When roundabouts are constructed correctly and installed in proper locations, they safely keep cars moving at a reasonable speed while allowing them to change their direction. And according to MDOT, they are being built more frequently throughout the state. This means we will continue to see new ones pop up on Michigan roads and, chances are, if you don't currently have one in the area you navigate often, that will change in the coming months and years. Familiarizing yourself with them beforehand is important.
Even though roundabouts can improve safety, they do not have a perfect, "one size fits all" concept. For example, the three-lane, double-roundabout in Brighton is currently receiving a makeover. This roundabout, located at the intersection of Whitemore Lake and Lee Roads near US-23, averages 40-60 car accidents a year. With the help from a federal grant, the Livingston County Road Commission will be spending $1 million on removing one lane in the roundabout and making adjustments to the US-23 southbound entrance ramp. This exemplifies the fact that roundabouts are still a relatively new concept and may need improvements in the future. As such, they'll continue to be dangerous intersections in Michigan for the foreseeable future.
Stay on the Lookout for Roundabouts in the Lansing Area
If you have never encountered a roundabout, they can be intimidating for drivers. People have been known to speed through, change lanes, or even drive in the wrong direction while using them. As drivers become more comfortable with navigating roundabouts, these dangerous intersections become safer for the motorists who use them.
Currently, there are seven roundabouts in the Lansing area the residents should familiarize themselves with and navigate with caution if they've never used an intersection of this kind:
Lake Lansing Rd. and Chamberlain Dr. – 7 crashes in 2017
Park Lake Rd. and Burcham Dr. – 7 crashes in 2017
Marsh Rd. and Hamilton Rd. – 6 crashes in 2017
N Canal Rd. and Willow Hwy. – 6 crashes in 2017
Lake Lansing Rd. and Wood St. – 5 crashes in 2017
Lansing Capital Airport – 5 crashes in 2017
Hulett Rd. and Bennett Rd. – 3 crashes in 2017
Tips for Navigating Roundabouts
MDOT has offered the following steps on how to approach roundabouts and navigate these dangerous intersections with success:
Slow down as you approach the roundabout.
Use the guide signs and lane designation markers to choose the appropriate lane for the intended destination.
Look for pedestrians and bicyclists as you approach the crosswalk. Yield to those intending to cross.
Slow down as you approach the yield sign and dashed yield line. Look to the left to see if vehicles are traveling within the roundabout.
Once there is an adequate gap in traffic, enter the roundabout. Do not stop or change lanes once in the roundabout.
As you approach the intended destination, signal your intent to exit. Look for pedestrians and bicyclists as you exit.
Roundabouts surely make dangerous intersections safer, but they don't completely eliminate all risk. Knowing how they work and navigating them with caution is key to ensuring safety.
If you've been injured in an auto accident we're here to help. With skill, expertise, and compassion, we deliver results our clients can count on to get them back on the road. Call us today for a free case evaluation.