Sexual Assault Awareness Month – History, Involvement, & Resources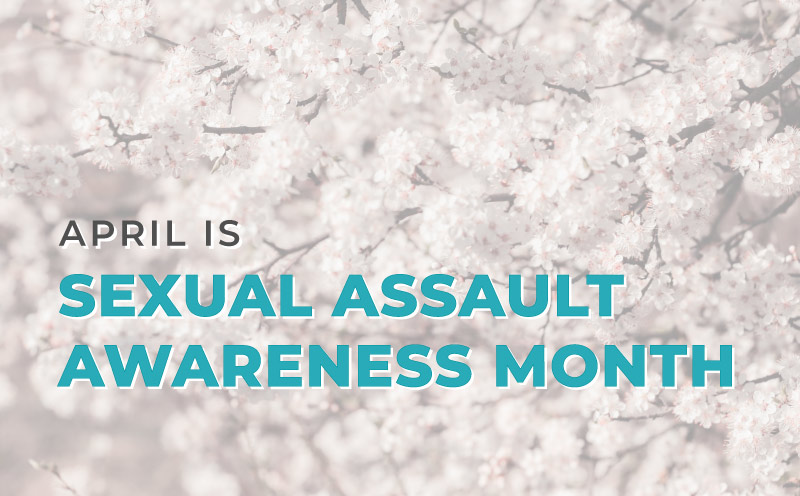 The topic of sexual assault is everywhere in the news lately. Society is moving toward open discussion and meaningful conversation regarding this rampant issue. Nationwide, 81% of women and 43% of men reported experiencing some form of sexual harassment and/or assault in their lifetime, showing that this conversation is long overdue. Part of the solution to altering these grim statistics is keeping the discussion alive and in the public spotlight. Sexual Assault Awareness Month (SAAM) focuses on doing just that. In honor of those affected by sexual assault, here's a brief history of SAAM, ways to get involved in the movement, and resources for those in need.
Roots of a Movement
Women throughout history have banned together to fight sexual violence. However, in the U.S., this topic wasn't really part of the public discussion until the 1940s. As the broader topic of civil rights and equality for all gained traction during this time, more and more people began advocating for sexual assault prevention. Many social justice activists of the time, such as Rosa Parks, explored the intersections of gender-based discrimination and sexual violence. And while the conversation was limited at the time, it began the discussion that would later result in a national movement.
Growth Over the Years
Awareness grew over the next several years. While social activism made a large forward leap during this time, sexual assault awareness simultaneously experienced tremendous growth. In 1971, the Bay Area Women Against Rape – the country's first rape crisis center – opened. Within five short years, over 400 centers opened across the country, offering similar immediate services to victims with efforts to raise awareness and improve prevention of acts of sexual violence. As a result, statewide coalitions against sexual violence began forming as early as 1975. The first-ever Take Back the Night event was held in San Francisco in 1978, with over 5,000 in attendance, and continues annually to this day.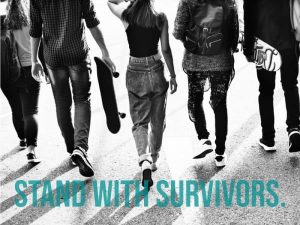 Seeds of Change
Despite growing discussion and awareness, victims of sexual violence, particularly women, lacked legal protections until 1993 and the implementation of the Violence Against Women Act (VAWA). This law was threefold:
Required law enforcement to treat gender-based violence as a crime rather than a private family matter.
Strengthened legal protections of victims of sexual and domestic violence.
Expanded resources for sexual assault survivors and their families.
In March, President Biden signed into law the Violence Against Women Act Reauthorization Act of 2022, reauthorizing all current VAWA grant programs until 2027, and in many ways, strengthening this law.
The National Sexual Violence Resource Center (NSVRC) was established in 2000. NSVRC held the very first Sexual Awareness Month one year later in 2001.
April is Sexual Assault Awareness Month
In 2005, the campaign made a major pivot from awareness and services for survivors to focusing many of its efforts on prevention. While Sexual Assault Awareness Month has been recognized for the last 18 years, Barack Obama proclaimed April as the official SAAM in 2009.
This year's theme is "Building Safe Online Spaces Together," spreading awareness that sexual harassment, cyberbullying, and sexual abuse and exploitation behaviors happen far too often online, and that there are multiple ways to create online spaces that value respect, inclusion, and safety.
#MeToo Movement
While use of the term "Me Too," acknowledging survivors of sexual assault, was first officially coined in 2006, it was nearly a decade before it received national attention. As survivors are supported, empowered, and encouraged to share their truth, more and more instances of sexual assault are coming to light, touching every industry and landscape, from college campuses and schools, apartment complexes, and medical treatment, to film making, politics, and the judicial system. Through the #MeToo movement, we are finally realizing that sexual assault is a national epidemic that must be stopped.
SAAM – Get Involved
1. Take the pledge. Vow to:
Know more
Stand with survivors
Speak up
Donate
2. Join the official conversation using hashtags #SAAM, #SafeOnlineSpaces, #30DaysofSAAM, and mention @NSVRC.
3. Wear teal, the color of sexual assault, as a survivor, or to stand in solidarity with survivors.
4. Learn how to support survivors. Help them take the first steps like seeking medical care, finding support, and enlisting the help of a sexual assault advocate without pushing your agenda. Let them know you believe, support, and respect them.
Michigan Sexual Assault Resources
If you yourself are the victim of sexual assault or domestic violence, we believe and hear you. Our sexual assault attorneys have helped many other victims through very difficult times and know some of the best resources available.
Additionally, in December of 2020, Governor Gretchen Whitmer passed the Address Confidentiality Program, which protects victims of domestic abuse, sexual assault, human trafficking, and stalking by keeping their physical address confidential and out of the hands of their perpetrator.
If you were injured as the result of someone else's misconduct, you may be entitled to certain legal actions. At Sinas Dramis Law Firm, we have a dedicated and compassionate team of sexual assault attorneys who work with victims of sexual abuse to help bring civil suits against negligent institutions and organizations. We believe that victims have the right to hold guilty parties accountable. In doing so, this furthers the conversation and forces improved preventative measures on campuses, in housing complexes, within organizations, and at hospitals and health systems, to name a few.
When you call our firm, we will connect you with an attorney who specializes in these types of matters. We will discuss the specifics of your case in a free and completely confidential case evaluation. Call us today at 517-394-7500 or submit a contact form here.