Do I Still Get Michigan No-Fault Benefits if I Was in Car Accident in Another State?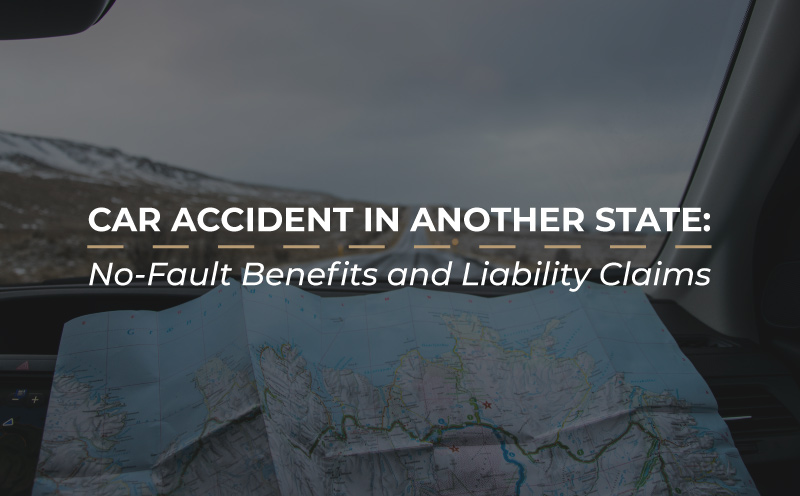 With Spring Break season upon us, some families are choosing to spend the time out-of-state, which brings up the important question: what happens if a Michigan resident is involved in a car accident in another state? Primarily, are Michigan residents still entitled to auto no-fault benefits when injured in motor vehicle accidents that don't happen in Michigan? Grand Rapids car accident lawyer, Tom Sinas, recently discussed this topic on Fox 17 "Know the Law," and if you have any out-of-state plans coming up, you might want to learn about your rights before taking off.
Michigan No-Fault Benefits for a Car Accident in Another State
Michigan no-fault PIP benefits are vitally important to anyone in a car accident. For those who selected lifetime, unlimited no-fault coverage, no-fault coverage is still available for their accident-related care without a monetary cap through the no-fault system. In addition to medical benefits, no-fault coverage also provides benefits such as wage loss and survivor's loss benefits.
While we mostly think of no-fault benefits as part of a Michigan-specific system, certain groups of people are entitled to no-fault benefits if they're involved in a car accident in another state and even in Canada.
Who Qualifies for No-Fault Benefits in Accidents Occurring Outside of Michigan?
As previously mentioned, certain people qualify to receive Michigan no-fault benefits even if the accident they were in occurred in another state or Canada. These people include:
Named insureds on an auto no-fault policy
Spouses of a named insured on an auto no-fault policy
Any other relative domiciled with a named insured on an auto no-fault policy
Occupants of vehicles insured with a no-fault policy, so long as the occupant is a Michigan resident or if the owner or registrant of the vehicle was insured under a no-fault policy
If any of these individuals are injured in a motor vehicle collision in another state, they're entitled to no-fault benefits.
Injured in an Out-of-State Crash in Someone Else' Vehicle or a Rental Car
No-fault policies are not specific to the vehicle you are riding in at the time of the collision. Not only do no-fault benefits follow those named on a Michigan no-fault policy across state lines, but the policy also covers a person when riding in another person's vehicle.
So, for example, if you were to hop in a plane and go to Florida to visit a friend, and you are injured in a car accident in their vehicle or in a rental car, you are still entitled to Michigan no-fault benefits if you are a named insured on a valid Michigan auto no-fault policy. Your no-fault benefits follow you yourself, not the vehicle you primarily drive.
Claims Against Negligent Drivers in Out-of-State Crashes
Auto collision liability claims arise when you were injured as the result of a car accident caused by another person. Michigan residents injured in motor vehicle collisions caused by another driver have the right to bring a claim against that driver in nearly every state in the country, not just Michigan. Regarding out-of-state accidents, we are usually referring to liability claims that exist under the law of the state where the accident occurred. This can create a rather complicated intersection of two state laws – the injured Michigan resident has a Michigan auto no-fault benefit claim and (2) the liability claim, which may involve various aspects of the other state's law.
Important Words of Caution to Vacationers Injured in About Out-of-State Car Crashes
Many people involved in out-of-state collisions often assume they need to retain an attorney in the state in which their crash occurred, and that's the end of it. While they may indeed need to retain a lawyer from that state, doing so may not provide comprehensive enough legal resources to fully protect their legal rights. Michigan's no-fault system is the most complex of any state in the country. Therefore, Michiganders injured in out-of-state crashes shouldn't expect an out-of-state auto attorney to have the comprehensive knowledge about our state's auto no-fault benefits that an auto accident lawyer in Michigan has. When choosing legal counsel in these types of cases, people injured in a crash outside of Michigan should take extra time and consideration in retaining legal representation, noting the importance of hiring an attorney with a sufficient understanding of our state's no-fault benefits.
Tom also points out a second important factor in these cases – the significant interplay of no-fault claims and liability claims. While these are two separate claims, they interface significantly and impact each other in a way that makes it very hard to completely separate one from the other. Therefore, retaining an attorney to handle one claim and a second attorney to handle another is not typically in the injured person's best interest.
West Michigan car crash lawyer, Tom Sinas, explains how Michigan's auto insurance works in a car accident in another state
Vacation Car Accidents
In the unfortunate situation you or your family find yourself in an out-of-state car accident on your next road trip or vacation, it's important to remember that anyone covered by a no-fault policy can still obtain no-fault PIP benefits in out-of-state crashes. While the potential interplay of two different state laws can be very complex, a seasoned auto accident attorney can help you review your potential claims.