Tom Sinas Receives "Best of Grand Rapids" Distinction by Grand Rapids Magazine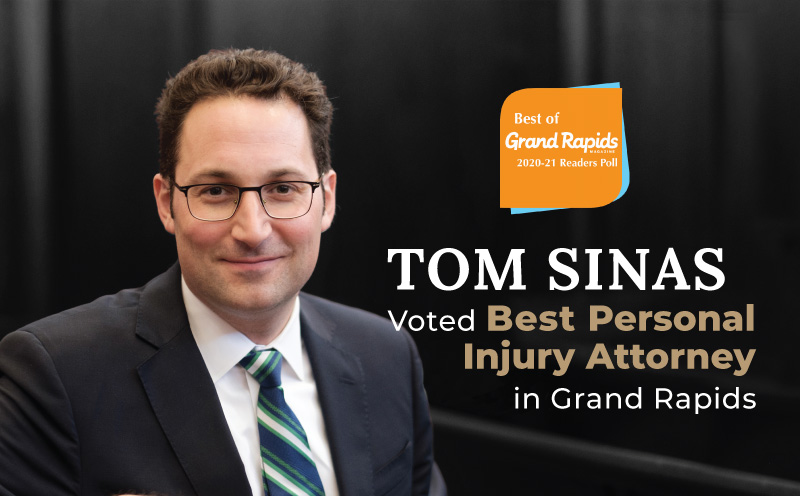 Every day, consumers turn to the Internet to help them find the best of the best – from exceptional products with the highest reviews, to five-star local services. For the past 18 years, Grand Rapids Magazine has been helping connect these searchers with the best experiences, products, services, and businesses Grand Rapids has to offer – which is a lot! Compiling reader ballot results, Grand Rapids Magazine releases its annual "Best of Grand Rapids" list. We are pleased to announce that Tom Sinas received the best personal injury attorney in Grand Rapids distinction by readers of the Grand Rapids Magazine!
Tom Sinas – Top-Rated by Pros and Public
This recognition as the best personal injury attorney in Grand Rapids by the public through inclusion in this year's "Best of Grand Rapids" list follows closely after Tom's recent distinction as a top-rated Grand Rapids attorney by his peers for the second year in a row. Additionally, in 2020, Tom was both the youngest and the only West Michigan attorney listed by Leading Lawyers as a "Top 10 Plaintiff's Personal Injury Lawyer" in Michigan. While recognition as a standout professional by one's peers is an honor, receiving recognition from members of the public is a monumental moment in any attorney's career. The entire team at Sinas Dramis Law Firm is incredibly grateful to all Grand Rapids Magazine readers who took the time to partake in this year's voting. Through endeavors such as the "Best of Grand Rapids" list, consumers can be sure they have found the very best of the best when searching for particular products and services.
2021 "Best of Grand Rapids" List
Grand Rapids Magazine publishes its "Best of Grand Rapids" list each year to recognize local businesses and professionals as the very best in a wide range of industries. In its 18th year of publication, the "Best Of" list broke out law firms by practice areas, recognizing Tom Sinas as the best personal injury attorney in Grand Rapids in its first year of categorizing lawyers in this manner. Awardees are selected based on votes collected via a poll, where readers are asked to cast a vote for the best business or professional in entertainment, experiences, food and drink, shopping, and services ranging across more than 100 different industries. If you have not checked out the list yet and are looking for the very best Grand Rapids has to offer, be sure to check out this year's list!
Dedication to West Michigan
While Tom began his career in Minneapolis – first with a national law firm representing catastrophically injured individuals and their families and then with Minnesota's premier state prosecution office on a special assignment prosecuting complex financial crimes. He has called Grand Rapids home since 2013. Upon his return to Michigan, and seeing a need to expand the Sinas Dramis tradition of excellence to the west side of the state, Tom opened the firm's downtown Grand Rapids office.
Tom Sinas' interview with Fox 17 "Morning Mix" regarding "Best of Grand Rapids" distinction.
With a career of legal representation spanning the entire state of Michigan, Tom is actively involved in and dedicated to the West Michigan community in particular. You may have seen him on a Saturday morning segment of "Know the Law" on Fox 17, where he explains particular aspects of the legal system that directly impact Grand Rapidians' everyday lives. Or perhaps you have brought your child or grandchild to the firm's annual bicycle helmet giveaway event – Lids for Kids – which Tom provides leadership for each year.
Beyond community endeavors, Tom is an integral part of the Grand Rapids legal community. Over the course of his tenure in West Michigan, he has served in various leadership roles with the State Bar of Michigan, Grand Rapids Bar Association, Kent County Legal Assistance Center, and Justice Foundation of West Michigan. He also provides legal counsel for the Coalition Protecting Auto No-Fault (CPAN) and serves on the Board of Directors for the Brain Injury Association of Michigan (BIAMI).
Career in Service to Clients and Excellence in Legal Representation
Tom's achievements all stem from a deep commitment to his clients and personal mission of providing nothing but excellence in legal representation. Beyond receiving the distinction as the best personal injury attorney in Grand Rapids, in addition to his many other accolades and recognitions, Tom's clients remain the center of his many endeavors. Their satisfaction and trust in his services is his primary focus, and their feedback best serves those looking for a personal injury lawyer in West Michigan. Below are a few testimonials Tom has received from his clients:
"Gives lawyers a good name… It wasn't just about taking care of the lawsuit, which was successful. Tom is the kind of lawyer that seeks to help the person as well." -Michael
"[Tom] made my hard times as easy as possible. This was the first time ever needing a lawyer, and I'm so happy I experienced this with a lawyer like Tom. The world is full of hate and hard times, but dealing with difficulties was not something I had to worry about with Tom on my side." -Chelsea
"Normally you wouldn't expect to see your attorney at your spouse's funeral; Tom was there, going above and beyond expectations, a true testament of his character. I highly recommend Tom Sinas and Sinas Dramis." – Michelle
"Tom is second to none and is a credit to the legal profession in every way!"
-Bonnie
Congratulations, Tom, for receiving this year's best personal injury lawyer in Grand Rapids!