Tom Sinas Recognized as a Michigan Top 10 Plaintiff's Personal Injury Lawyer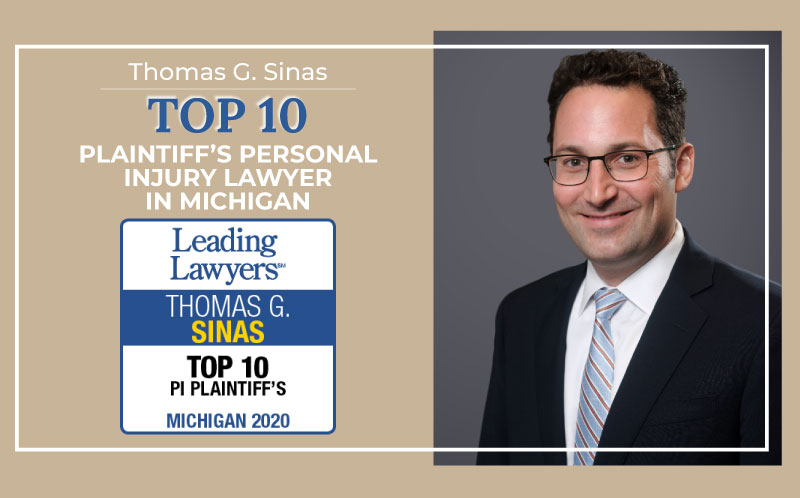 We are proud to announce that Grand Rapids personal injury lawyer, Tom Sinas, has earned the peer-recognized distinction of a Michigan Top 10 Personal Injury Plaintiff's Lawyer by Leading Lawyers. Tom is the only West Michigan-based attorney on the 2020 Top 10 list as well as the youngest lawyer on the list.
Leading Lawyers releases annual Top 10 Lawyer lists to recognize highly regarded attorneys in various practice areas. The selection process for inclusion on this distinguished list is based on peer-selected surveys and critical analysis by the Leading Lawyers Advisory Board.
In addition to Tom's Top 10 recognition, he and six other Sinas Dramis Law Firm attorneys have been recognized by Leading Lawyers in 2020 as follows:
A Continued Commitment to Excellence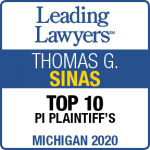 As a partner at Sinas Dramis Law Firm, Tom manages the firm's Grand Rapids office. He currently serves on the Board of Commissioners for the State Bar of Michigan and the Board of Directors for the Brain Injury Association of Michigan. He previously served as President of the Kent County Legal Assistance Center, is an active member of various other associations, and serves as an Associate General Counsel for the Coalition Protecting Auto No-Fault (CPAN).
"Being recognized as a Top 10 Personal Injury Plaintiff Lawyer is a tremendous achievement in a lawyer's career," says senior partner of Sinas Dramis Law Firm, Jim Graves, "To be so honored at Tom's stage of his career is even more remarkable. Tom has truly earned the deserved respect and admiration of his peers. His skills as an advocate and professionalism are befitting of this high honor."


With a focus on helping victims of car accidents in Grand Rapids and beyond, semi-truck accidents, motorcycle collisions, as well as helping grieving families navigate complicated wrongful death claims, among many other personal injury case types, Tom has successfully obtained some of the firm's largest personal injury results. His commitment to ensuring that his clients achieve fair compensation and access to the resources necessary for their recovery is exhibited in his many successful case results.
Community Dedication in Grand Rapids and Beyond
Tom says that "everyone should have access to at least a basic understanding of their legal rights" and is committed to providing accessible educational opportunities for members of the community. He has authored numerous publications and frequently participates in many presentations regarding Michigan's new auto no-fault law. He also appears in weekly news segments on Fox 17 News to provide educational insight on the rights and responsibilities of Michiganders.
He also takes a leading role in Sinas Dramis Law Firm's annual Grand Rapids Lids for Kids event that provides free, properly fitted bike helmets to children in attendance and educates families on the importance of brain injury prevention. To date, this event has provided over 3,000 bike helmets for Grand Rapids area kids.
Award-Winning Grand Rapids Lawyer
Tom is an award-winning personal injury lawyer in Grand Rapids who has accumulated a series of accolades in recognition of his achievements since opening the firm's Grand Rapids office in 2013. In 2019 he was named a Michigan Super Lawyer and a Grand Rapids Top Lawyer. From 2015-2018 Tom was honored as a "Rising Star" by Michigan Super Lawyers. In 2016, Tom received the "Up and Coming Lawyer" award from Michigan Lawyers Weekly as well as the "Prevention Award" from the Brain Injury Association of Michigan.
Join us in congratulating Tom for this well-deserved Top 10 Lawyer award!