Motorcycles and the New Auto No-Fault Law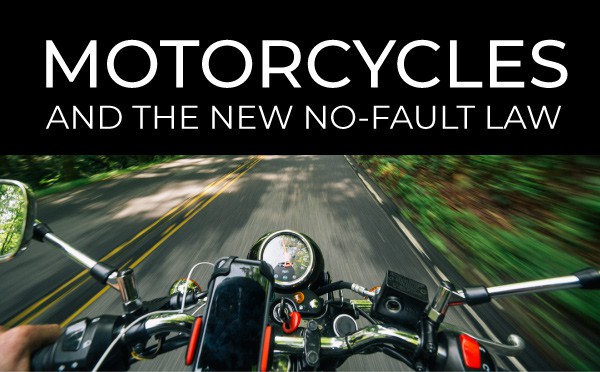 We've been talking a lot about the changes happening to Michigan's auto no-fault law. You can read all about these changes to our no-fault system here. Additionally, our firm created "Making Smart Choices" – a comprehensive guide to helping consumers make educated auto insurance decisions. Many are also wondering about motorcycles and the new auto no-fault law. This article will give you the basics.
Grand Rapids Motorcycle Accident Lawyer Tom Sinas and Lansing Motorcycle Accident Lawyer Bryan Waldman both spoke to the media about the new auto insurance impacts on motorcyclists.
Tom Sinas on Fox 17 "Know the Law" in West Michigan
Bryan Waldman on WLNS 6 "Legal Edge" in Lansing
Basic Rules Regarding Motorcyclists and Auto No-Fault Benefits
To understand the changes, you must first understand how motorcycles are typically handled regarding insurance coverage.
If a motorcyclist is involved in an accident with a motor vehicle, the motorcyclist can receive auto no-fault benefits. If the motorcyclist is in a crash that didn't involve a motor vehicle – for instance, swerving to miss a deer – they are not entitled to auto no-fault benefits. Auto no-fault benefits include, most importantly, coverage for an injured person's medical expenses.

Our auto no-fault system treats motorcycles differently. Non-motorcyclists involved in an automobile collision turn to their own no-fault insurance provider for payment of no-fault benefits. Injured motorcyclists draw their no-fault benefits from the no-fault insurer of the vehicle involved in the crash, not their own policy (both pre and post-reform).
Changes for Motorcyclists Under the New No-Fault Law
Beginning July 1, 2020, motorists in Michigan can choose their level of no-fault coverage for medical expenses. Until now, all auto insurance policies covered medical expenses for life and without a monetary cap. Therefore, if a motorcyclist injured in an incident involving a motor vehicle covered by a limited no-fault policy, let's say a policy with a cap of $250,000 worth of benefits, the motorcyclist will be stuck with that $250,000 limit. Remember, motorcyclists must turn to the no-fault policy of the vehicle involved. So, even if they opt for an unlimited policy to cover their own motor vehicle, they will be capped at the amount of no-fault coverage selected by the vehicle owner/operator.
Advice for Motorcyclists Under New No-Fault Law
This seemingly unfair motorcyclist loophole in the new no-fault legislation was likely unintentional. There have also been discussions of fixing this particular issue in the future. However, any fix has yet to result in new legislation.
The best advice is – make sure you have good health insurance and that you avoid any lapse in health insurance coverage if you're going to ride your motorcycle in Michigan. Otherwise, under the new law, you're at the mercy of the coverage another person has chosen.
Grand Rapids car crash lawyer, Tom Sinas, talks about new auto insurance impacts on motorcyclists
Lansing-based auto collision attorney, Bryan Waldman, talks about the confusing interplay of injured Michigan motorcyclists and capped no-fault PIP benefits under the 2019 reformed auto law
RELATED READING
---
Which Insurance Company Pays Injured Motorcyclist Claims?
Michigan Motorcycle Helmet Law