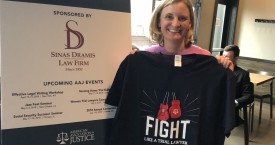 In efforts to advance awareness of the American Association for Justice (AAJ), increase membership, and encourage participation of women trial lawyers, Grand Rapids personal injury attorney Adrian Copeland recently helped facilitate the very first AAJ event in West Michigan.
As a member of the Sinas Dramis Law Firm team of attorneys in Grand Rapids, Copeland is dedicating her career as a personal injury advocate to the communities of West Michigan. Recognizing the need for increased local participation, Copeland has built relations and worked diligently with AAJ and the Michigan Association for Justice (MAJ) to bring this event to fruition.
Being the very first AAJ event in West Michigan, turnout exceeded expectations and the association successfully reached its goal of increasing membership. A relaxing, meet-and-greet style evening, AAJ raffled off a litigation package valued at over $300, which MAJ member Eugenie Eardley won. The event received incredible, positive feedback and will surely help strengthen AAJ relations locally in years to come.
Sinas Dramis co-sponsored the event and proudly supports Copeland's involvement in the endeavor. A graduate of Michigan State University College of Law, member of the Women Lawyers Association, and recipient of the esteemed Top 40 Under 40 award by The National Trial Lawyers, Copeland is a valuable member of the Sinas Dramis person injury team. With a career well established west Michigan, she is dedicated to protecting the rights of the injured and advancing legal representation standards in Grand Rapids.
Anyone interested in becoming a member of the American Association for Justice can do so here.
AAJ Membership Benefits Include:
Attend national conventions and conferences
Exchange ideas with a national group of plaintiff trial lawyers
Network with other members who freely share their knowledge and experience
Recognition of achievements
Access to thousands of online legal publications
Up-to-date national legal news and developments
Leadership role opportunities
Activism and advocacy opportunities on topics that matter most to you
And much more!
The Sinas Dramis Law Firm is committed to advocating for the rights of the injured. If you've been in an accident in West Michigan, one of our Grand Rapids lawyers can help you navigate the often complex legal system. For a free initial consultation and review of your case, please contact our office.