Auto No-Fault Lawsuit Challenges New Medical Provider Fee Schedule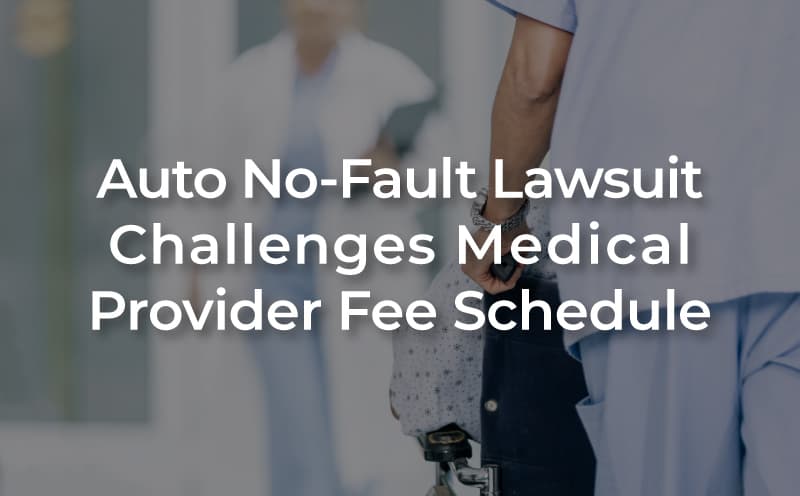 Several developments, in this case, occurred in late 2020 and early 2021. An integral member of the legal team handling this case, Lansing auto accident attorney, Lauren Kissel, provides further updates on the auto no-fault lawsuit here.
We recently wrote about our current lawsuit challenging the constitutionality of Michigan's recent no-fault reform, specifically the new limits on family provided attendant care and the egregious fee schedule that applies to non-Medicare compensable services. In the previous article, we discussed at length the in-home attendant care challenges. In this second installment, we will further discuss the constitutionality of the new medical provider fee schedule regarding services needed by those seriously injured in Michigan motor vehicle accidents.
Basics of the Current Auto No-Fault Lawsuit Challenging Family-Provided Attendant Care Caps and New Medical Provider Fee Schedule
As a refresher, last year, our firm filed suit challenging two specific provisions of the no-fault reforms. That lawsuit is currently pending in the Ingham County Circuit Court. We represent three clients – two individuals who were catastrophically injured in motor vehicle collisions, and a neurological rehabilitation center located in Ann Arbor, Michigan. The basis of our lawsuit challenges the 56-hour a week cap on in-home family provided attendant care and the 55% fee schedule that applies to services not compensable under the Medicare fee schedule. Our firm's primary argument is that the retroactive application of these two main provisions to individuals injured in car accidents prior to the date the new law went into effect is unconstitutional.
Individuals who purchased insurance policies that allowed them to be reimbursed for all reasonable necessary attendant care services regardless of whether or not a family member provided this care are constitutionally entitled to the provision in which they agreed to contractually with their insurer. You can read more in-depth about the lawsuit challenging the 56-hour a week cap on in-home family attendant care here.
Secondly, an individual's rights to benefits, regardless of any government-imposed fee schedule, vested as of the date of their accident. We argue that imposing a new medical provider fee schedule retroactively alters a person's rights in direct violation of the pre-existing contractual obligations between the injured individual and his or her insurance company.
New Limits on Non-Medicare Compensable Services
Under the previous no-fault law, medical provider reimbursement rates were not subject to any government-imposed fee schedule. Additionally, motor vehicle accident victims were entitled to reimburse their medical providers for all charges incurred for reasonably necessary products, services, and accommodations for their care, recovery, or rehabilitation. However, under the no-fault reforms, reimbursement rates are capped based on various fee schedules that differ based on the type of provider and services being performed. Most of these fee schedules are based on a percentage of what these services are compensable at under the Medicare fee schedules. However, services that are not compensable by Medicare (e.g do not have a Medicare reimbursement code) are subject to a fee schedule that caps reimbursement rates at 55% of what the provider was charging for these services on January 1, 2019.
This non-Medicare fee schedule will have dire consequences for many Michigan medical providers and individuals who rely on these providers for medical treatment. The new medical provider fee schedule essentially mandates that providers who do not provide Medicare compensable services must take a 45% pay cut from what they were earning on January 1, 2019. This drastic cut in reimbursement rates is unsustainable for many Michigan medical providers, such as our client in this lawsuit, the Eisenhower Center. The Eisenhower Center won't be able to survive on this fee schedule and will be forced out of business. This is the same for numerous providers across the state of Michigan. As a result, many residents of these long-term care facilities will be forced out of their homes that they have known for decades and left with no place to go.
Fee Schedules and the High Cost of No-Fault Insurance
Legislators will tell you that medical provider costs, especially for facilities such as the Eisenhower Center, are one of the reasons why the cost of no-fault insurance is so high. As a result, they argue that fee schedules are necessary to bring these costs down. Our firm believes strongly that there are better ways to bring no-fault costs down than the egregious non-Medicare fee schedule that will cause providers to go out of business and leave seriously injured motor vehicle accident victims with nowhere to go. Additionally, the non-Medicare fee schedule essentially rewards those providers who were driving up the cost of no-fault insurance in the first place. Only those providers who were overcharging for their services in the first place will be able to sustain their businesses after taking a 45% pay cut.
We continue to fight for the rights of injured people in Michigan in a variety of ways, this new no-fault lawsuit being one of them. We will announce any updates in this lawsuit as we learn of them.
Below you can watch the WLAJ "In the Name of the Law" episode in which attorneys Stephen Sinas and Lauren Kissel discuss the two main aspects of the new no-fault law our firm is challenging in this lawsuit.