George Sinas Receives Esteemed Earl J. Cline & Sherwin Schreier Award for Excellence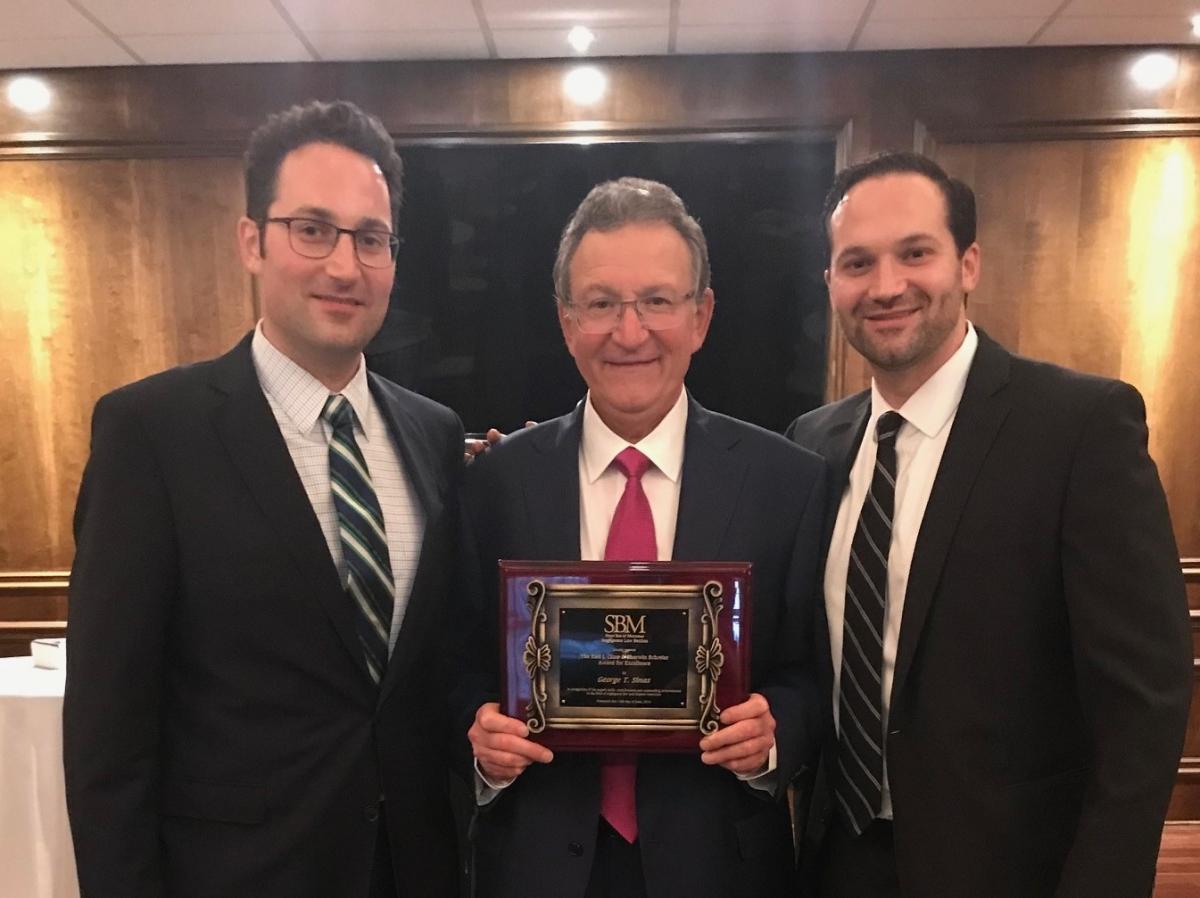 Recently, at its annual dinner and reception honoring past chairpersons, the Negligence Law Section of the State Bar of Michigan honored George Sinas with the prestigious Cline & Schreier Award for Excellence. In an announcement earlier last month, the Negligence Law Section stated,
"George has epitomized excellence in automotive related litigation for decades. He is being honored for his work on behalf of his clients and the profession… George has played a substantial role in educating lawyers, Judges, and… legislators, about the inner workings of Michigan automobile law."
With an unparalleled dedication to automotive-related litigation and a career committed to protecting the rights of the injured, this award recognizes Mr. Sinas for his excellence in personal injury representation and thought-leadership on Michigan's auto no-fault system.
Award for Excellence – Capstone Recognition for a Career of Distinction
After obtaining his bachelor's degree from the University of Michigan and his law degree from Wayne State University Law School, Sinas dedicated his practice to representing the seriously injured and their medical providers, with a particular focus on motor vehicle cases. While many of his fellow attorneys viewed the No-Fault Act with disfavor when it was passed. George, however, understood early on the system's significance in preserving the basic human right of access to quality healthcare, especially for those devastated by auto-related tragedy. Since then, he has steadfastly advocated for and maintained the stance that no-fault law is a right that deserves protecting, and is continually recognized for these efforts.
In 2017 and 2018, Leading Lawyers named him as one of Michigan's "Top 10 Plaintiffs' Personal Injury Lawyers." Michigan Defense Trial Counsel presented him with its "Most Respected Advocate Award" in 2015, and in 2014, he was named "Champion of Justice" by the Michigan Association for Justice. In 2009 and again in 2014, Mr. Sinas was named the "Lansing, Michigan Personal Injury Litigator of the Year" by Best Lawyers in America, a distinction never before awarded a Lansing personal injury attorney.
Sinas has established himself in the legal community as the premier authority on Michigan's no-fault system. He has authored two textbooks and many articles on this complex topic. George also serves as an Adjunct Professor at Michigan State University College of Law teaching future attorneys the particulars of no-fault policies. Furthermore, he was instrumental in the formation of the Coalition Protecting Auto No-Fault (CPAN) and currently serves as its General Counsel, as well as sits on the Board of Directors for the Brain Injury Association of Michigan (BIAMI).
Surrounded by his colleagues, partners, sons, family, and friends, George Sinas graciously accepted the Cline & Schreier Award for Excellence on Thursday, June 14, 2018 at the Detroit Golf Club.